Netflix is home to thousands of TV shows that cater to almost every genre preference. During the 2020 pandemic, Netflix has become a popular outlet for viewers, but it can be overwhelming at times. It's hard to choose what to watch, so what follows is a breakdown of some of the most popular shows on Netflix that are available to stream.
"Parks and Recreation"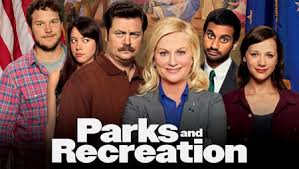 "Parks and Recreation" is a comedy show is about a group of people who work for the fictional city of Pawnee Government Parks & Recreation Department. It is filmed like "The Office" in documentary style, with lots of first-person takes and pans from person to person in one scene. Like "The Office," the characters do not take their jobs seriously, save the primary name, Leslie Knope, who takes her career too seriously. This show is about coworkers trying to make their county as lovely as possible, but inevitably, achieving the opposite more often than not.
"Stranger Things"
"Stranger Things" is a sci-fi drama featuring many teens from the early 1980s who would qualify as "nerds." It's their interest in such nerdy things – like playing Dungeons & Dragons – that make them perfect protagonists for a show full of supernatural beings out to destroy the world. To save the world, they rely on Eleven's supernatural help, a pre-teen girl who had been kidnapped as a baby because she was born with powerful psychokinetic abilities. Though it's often more dramatic, there's a lot of comedy to enjoy in "Stranger Things." One of the funniest characters, Dustin Henderson, consistently provides comedic relief with his clumsy antics.
"The Haunting of Hill House"
"The Haunting of Hill House" is a horror show on Netflix based loosely on a 1959 novel named author Shirley Jackson. The show focuses on five characters — Steven, Shirley, Theodora, Luke, and Eleanor – who moved into Hill House in the 90s so that their parents could renovate the mansion and resell it. The family winds up staying longer, however, due to repair problems. Twenty-six years later, the siblings reunite after one of them dies, and they rehash the many adverse effects the mansion had on their lives, as well as on the lives of their parents. To me, this show is proof that literal homes can affect a child's development. This show is terrifying and will give you chills.
"The Last Dance"
"The Last Dance" is one of the best documentary series of all time, in my opinion – especially for sports fanatics. It's all about Michael Jordan's life and reveals things from his childhood to his dominating days in the NBA that many fans may not be aware of. The docu-series also features footage never shown before from his final season with the Bulls in 1997-98. Last but not least, "The Last Dance" contains a wide variety of interviews, especially of pro basketball players such as the late Kobe Bryant, Larry Bird, and Magic Johnson, and their relationship with Michael Jordan. This is an excellent docu-series that catches your attention instantly and doesn't let it go.
"Dexter"
"Dexter" is a series about a serial killer that murders other serial killers. It exposes watchers to the way serial killers think. "Dexter" himself is the protagonist who is continually checking in with his actions and interactions to make sure his "dark secret" isn't apparent. Some people catch on to his "killing hobby," which might make some people feel conflicted. Because what does it mean to root for the right guy when the good guy is a serial killer?