College students sometimes state that they worry whether they have selected the right majors and minors and wonder about future career paths. To combat this uncertainty, Stevenson University has created an innovative program especially for current students navigating their college lives and looking to plan for their post-graduation futures before they actually graduate.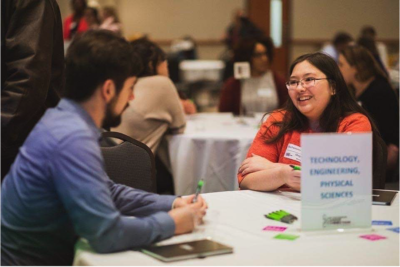 The Mustang Career Mentor Program was designed to connect students to Stevenson alumni and community partners in order to provide networking opportunities and career advice. Stevenson University Career Advisor, Kelly Fewster, shared that the program allows students access to mentors for "long-term mentorship or just to have a quick career question answered by an alumnus in a specific career field."
Hosted by PeopleGrove, the Mustang Career Mentors platform allows students to navigate and review their matched mentors and to connect to mentors of interest through the system. In turn, mentors choose the number of mentees they wish to have at any time and receive a system email notification when a student asks to connect with them.
Mustang Mentor, Amara Eden, told The Villager she signed up for the program because she had studied nursing and found herself struggling mid-bachelor's degree. Eden was able to get through her grueling schedule because she made connections and found mentors on her own, but she also understands that not every student has the wherewithal to do so. "My relationship as a mentor has allowed me to fulfill my dream. As a leader, I hope to make an impact that would be long-lasting, and this has been a great opportunity," Eden stated. "I am very happy that I joined the mentor program. As a global nurse, my goal is to impact lives globally."
Additionally, Stevenson's "Virtual Career Chats" will host an online "Mustang Career Mentors" information session online on Oct. 22 via BlueJeans.
More information on these programs is available at https://stevensonconnect.peoplegrove.com/page/about.