During their time at Stevenson, students receive coaching on how to prepare for internship and job interviews, and that coaching is becoming even more important during this COVID-19 period.
Stevenson professors work hard every day to help set students up for their futures. They make sure they prepare every student for life after college and as a part of the workforce. Whether it's through group projects or writing papers, professors hold students accountable on a professional level to ready them for life after college.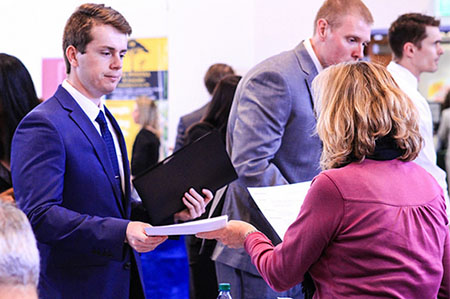 Chip Rouse, current Athletics Academic Coach and former internship supervisor for Business Communication, talked about different ways students should be preparing for job opportunities.
"It's important to research the company to get a feeling about what the company has to offer. It's also important to do research about the person who is going to be conducting the interview. It's also very important to know the mission and values of the company you are interviewing for," said Rouse. She also discussed the importance of making sure the company is the right fit for students, as well as what students will bring to that company in terms of talents, skills, and education.
Another important part of the interview process is preparation. Being able to prepare before an interview will calm the nerves of the person being interviewed. In the current situation of COVID-19 and the reality that many interviews will be conducted virtually, it's important to practice an online interview with a close relative or friend in order to test the internet connection and record the interview to make sure the connection is strong and free of glitches. For more information about about the most common habits during the interview process, look at https://www.cheatsheet.com/money-career/bad-habits-kill-chances-job-interview.html/.
Little things during an interview can make a big difference. "Little details are extremely important during the interview process. If it's a really close interview between you and another person, and he has his shoes polished and his suit is fresh and clean and you don't, they're going to use those small details to make a difference," said Rouse. Questions should be brought into the interview as well to make sure the company matches with what students are looking for.
C.J. Beteta, a senior marketing major with a minor in coding and software design, recently went through the interview process with his internship at Southern Trust Mortgage. "I prepared for my interview beforehand by doing research on the company and I also spoke to Gabrielle Styles who helped me with possible questions I can prepare with. I also made sure to bring questions into my interview to see if the company was the right fit for me," said Beteta. Beteta also said the preparation and research he conducted made him more prepared, thus helping the interview become more conversational in tone.
For more information regarding how to prepare for the interview process, visit https://www.indeed.com/career-advice/interviewing/how-to-prepare-for-an-interview for more information.