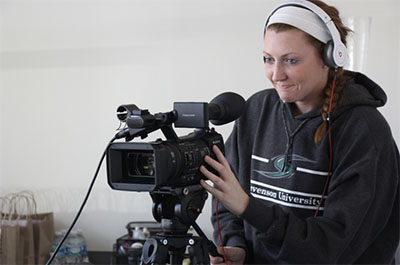 Normally, autumn brings with it a heightened sense of community – especially during Halloween and Thanksgiving. However, COVID-19 will prevent such communal experiences this year.
Under the present conditions, the Stevenson University community, as well as the local Owings Mills community, have offered, and will continue to offer, several activities to safely bide the time. Some of these activities are just a computer click away. 
Eventbrite is a useful online tool for locating any and all upcoming events nearby. Recent local and campus events included "Reel Talk" with Professor and Chair of Stevenson University's Film & Moving Image Department Christopher Llewellyn Reed on Nov. 11, the Stevie U 72-Hour Film Festival on Nov. 13, and the House of Brick (HOB) Fall Festival Pop-Up Shop in Reisterstown on Nov. 14. The latter event – a pop-up shop exhibit – has grown more popular in general in recent years. Pop-up shops are temporary retail spaces that sell merchandise of any kind; they sell their goods by traveling to different venues in order to "pop up" their shops for a short time. Izzy Torres, a Stevenson University junior, said that she was interested in the HOB Fall Festival event in particular. "I love exploring new things and finding new hangout spots," she said. While the HOB's pop-up shop gathering ended on Nov 15, there's an upcoming "Black Friday" pop-up shop exhibit at the Brickrose Exchange in Baltimore to be enjoyed. 
Drive-in movie theatres are getting popular again because of the safety they offer attendees from the threat of the ongoing pandemic. Bengies Drive-In Theatre, located in Middle River, features the biggest movie theatre screen in the United States and offers "TriPPPle features" on Friday and Saturday nights and "DouBBle features" on Sunday night. Torres described Bengies as, "nostalgic because the drive-in has such a 50's vibe, but we're obviously in the 21st century."
"Friendsgiving" is also a great fall activity to celebrate with loved ones, either virtually or in-person, though the latter possibility should only happen under strict CDC measures due to the increase in COVID-19 cases across the country. Jennifer Nguyen, a Stevenson University junior, explained that she still plans on decorating her apartment with a fall theme in order to host a safe Friendsgiving this year, which will be a "potluck dinner [where] everyone brings a dish" so long as they've tested negative for COVID-19 recently.
While COVID-19 has indeed disrupted life for everyone everywhere this year, there are still ways to enjoy autumn in spite of it. After all, the season itself represents change – in the weather, the color of the scenery, and even in sunlight exposure. Humans are used to that kind of change, so it's important to remember that the disruptions caused by COVID-19 are only temporary, and we can still thrive in spite of them.