On Dec. 2, The Middle Atlantic Conference (MAC) decided to continue athletic related events for the upcoming season.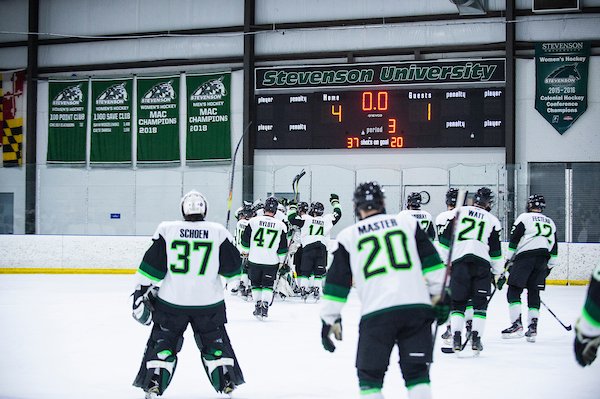 Stevenson has been diligent with regard to keeping athletes safe at the university as they continue to work their way back to contact practice. The university has followed the protocols of the state in order to make sure they're following the right guidelines. After the shutdown of athletics was made on Nov. 10, the MAC has done everything possible in order to return to athletic play. All staff and players have been grateful for the opportunity and applaud the athletic staff for working with the guidelines of COVID-19.
Jon Arndt, associate athletic trainer at Stevenson, spoke about the protocols Stevenson has been following in order to have all the athletes return to practice. "Athletics has taken numerous measures to mitigate the spread of COVID-19. From distancing practices to testing for COVID-19 on a regular basis, athletics has followed the guidelines set forth by the Sports Science Institute of the NCAA," Arndt said. Arndt also spoke about the return to contact practice and how athletes must have a negative COVID-19 test and then follow a process of non-contact practices that will then lead into contact practices. Each team will then be continually tested each week to focus on the safety of everyone.
The return to practice has been unique, but the coaches and players are happy to get back to practices that resemble those that occurred pre-COVID-19. There have been many changes for the upcoming games in order to provide the least amount of contact possible at games. Kathy Railey, current women's lacrosse coach, spoke about these recent changes that were implemented before and after the game. She said there will be many changes, such as letting only one captain speak to the officials. Railey also said that stick checks, consisting of eight random sticks, will be placed on the field so there is no physical contact. They also changed the sub area as well for each team where there is a home and away sub area with 2-yards between each other, and they're not allowed to shake hands after the game is over.
Shannon Snyder, senior biology major and current member of the women's lacrosse team, spoke about the decision to continue athletics. "Not having a season last year was hard, but I'm happy they're giving us an opportunity this year in order to have as close to a normal season as possible," Snyder said. Snyder also commented about the return to contact practice, stating that it's been enjoyable, and that she's happy that she's getting the ability to work at her sport with her teammates.
Stevenson remains hopeful to provide the safest season possible for its athletic teams and their opponents and athletes. For more information regarding all of the sports teams visit gomustangsports.com.