By: Leon Hollowell III
Stevenson University Women's Volleyball Head Coach, David Trumbo, has been leading the mustangs for 15 years, and every year, the goal is the same for the coach and the team: Win the MAC and then make a bid for the championship in the National Collegiate Athletic Association (NCAA) playoffs.  
The Stevenson University Women's Volleyball team has been in the Middle Atlantic Conference (MAC) for eight years now and has won the conference title every year. Women's volleyball is one of the most successful team programs in Stevenson history. 
So far this season, Mustangs are seven and one and coach David Trumbo understandably has high expectations for his team.  
"If we beat Eastern University it will really help our chances to get that number one (tournament) seed so we do not have to go on the road for the playoffs," coach Trumbo said. "The number one goal is the MAC, then after the MAC the NCAA playoffs."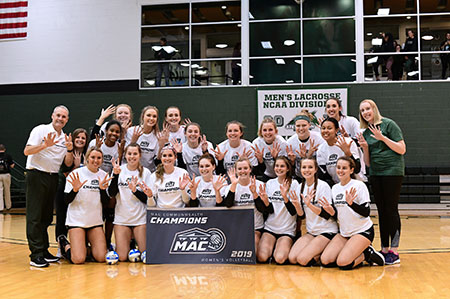 The Mustangs have made nine appearances in the NCAA playoffs, three times as MAC champions. The team puts in strenuous hours to rise to their goals, practicing, reviewing films, and weight training. Senior captain and MAC player of the week, Mackenzie Blevins, has high expectations for the team as well. "My expectations are that we continue to work as hard as we are now for the remainder of the season and keep pushing ourselves to be better," she said. "This team has heart, and we want to win. As long as we keep fighting like this, we will."  
Senior Captain, Lauryn Davis, says that she also has a reason for optimism.  
"My expectations this year are no different than previous years. I expect to win," she said. "There is a culture of winning on this team and we hold ourselves to very high standards. I don't expect us to stray away from that now."
A team that everyone else has circled on their calendar. "Winning is not always easy because we have a huge target on our back and everyone wants to beat us," she said. "But if we keep playing, and get better and better every day, we will continue to rise to the top."
So far this season the high expectations appear to be justified. Mackenzie Blevins was awarded MAC player of the week on September 13th. To win the honor, she had racked up 77 assists, 46 digs, and 22 kills. "It feels amazing to be named offensive player of the week and makes me realize all my hard work is paying off. I also know that means my team is working extremely hard because I could not have some of those stats without them.
Mackenzie said the team's atmosphere and energy before every game have contributed to the success.
"If you were walking past our locker room before a game you would be able to hear us and that's how we like it," she said. "We play music, bond as a team and make sure we all know what the end goal is and how hard we have to fight to get there."