By: Izabelle Torres
With 11 games already on the books and an impressive 8-2-1 record, the SU Men's NCAA ice hockey is showing their conference how to mix fire and ice.  
Their schedule has included games at SUNY Canton, and at Chatham, and home games against Nazareth, Utica, Manhattanville, Neumann, Tufts, and Lebanon Valley. The start of the season has been nothing shy of great raising the expectations of the players as much as the fans. Eric Olson, a sophomore business administration major and center on the ice, said the team's goals include winning the Middle Atlantic Conference (MAC) title, UCHC [United Collegiate Hockey Conference], "and to hopefully compete for the national championship."  
Despite the hot start head coach Dominick Dawes preached diligence in the face of success.  "If we want to accomplish our goals," he said, "every game is a big game for us." With goals comes room for growth and places for improvement. There may be an obstacle or two the team must overcome to come out on top this season. Ryan Patrick, a senior business communication major and a forward left wing on the ice, knows it won't be easy. He said the team's biggest challenge this season is "youth." "We are talented," Patrick said, "but young. While college is a 4-year stint, there is a lot of experience that comes from playing time at the collegiate level."  
"We have high expectations of our young group, 25 1st year and sophomores," Coach Dawes added.
Seth Bergeron, a sophomore business communication major and defensive player on the ice, added that playoffs and making the tournament at the end of the year is what he is looking forward to the most this season. The team won the MAC title last season and came close to winning the UCHC title.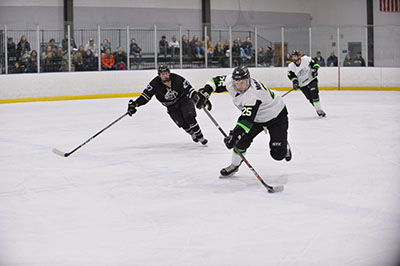 It is easy to see these titles are in reach, and fans look forward to seeing what the squad can accomplish. For its part, the program isn't taking the fans for granted.  To encourage attendance, they held a teddy bear drive for the chance to win prizes, like Beats headphones.  
The SU Men's Ice Hockey team plays at the Reisterstown Sportsplex. Click this link to check out their schedule for upcoming home games and to view the team's statistics.