By Ryan Coleman & Grant DeVivo
Since 2019, students have noticed a man parked in a light-blue Camaro with heavily tinted windows in the parking lot that separates Wooded Way from Garrison Plaza.  At least one or two students have had encounters with the man to which they have been harassed and/or followed by him.
The man has been described by students as in his 50s with a deep-sounding voice. It is unclear who he is or what his intentions are, but to the female students who have encountered him, he is a menacing figure.  He has been heard shouting phrases like "Oh, you're beautiful" and "Come over here (to my car)." 
"I was walking back towards the Wooded Way building," said junior Darae Lyles, who had an encounter with the man. "I got this feeling that something's off, that someone was following me. So, I look back and there's this blue car following me, and I started speed walking (to the building)."
As she ran off the driver shouted to her, "Oh, shawty!"
Lyles said she had her pepper spray in hand and was ready to deploy it if necessary. 
Stevenson security was contacted by The Villager about the matter. They chose not to comment because the case is still open and ongoing.
Security officers referred The Villager editors to Steve Gossage, supervisor of campus security. He did not reply to emails requesting more information.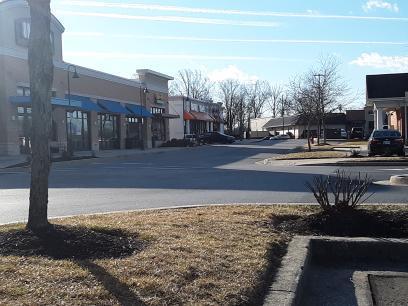 Wooded Way's building lies inside the blue lines that separate the campus from nearby commercial properties, restaurants, and shops. The two rows of parking spaces in front of the building are Stevenson property, but the rest of the parking lot connected to Garrison Plaza (leading towards Five Guys and Bonefish Grill) is not.  
Wooded Way is an area of concern because it is a place where the campus and the community are barely separated. It is convenient for some students traveling back and forth in that area, particularly student-athletes who commonly reside in the Wooded Way building, but it can be an uncomfortable issue for some others, specifically the female students in this case. 
"It's inconvenient," said senior and RA Finn Reyes about Wooded Way's location. "There's no security by Wooded Way really; only a security guard who's inside the Wooded Way lobby, but that's the closest there is to security. It's not really secured, so (the man) kind of hangs around there." 
Is it possible that this man chose this area of campus because of its vulnerability and openness?
"I feel like he took advantage of that," Lyles said. "Especially with Wooded Way being right there with only blue lines separating it. We need some type of safety and security down there, so we feel safe just being on campus and living there. It's just so open, and it's scary." 
Students are encouraged to never walk alone when passing the Wooded Way building into Garrison Plaza. It is recommended that students walk in groups and have some sort of defense mechanism at hand.
While Stevenson security declined to make any comments about the situation, security officers responded by saying that matters such as the blue Camaro "are taken very seriously and that students should contact them immediately if they feel threatened by anything." 
"If you see something, say something," they said.  
Students are encouraged to dial "0" on any campus phone to contact security, or dial Ratcliffe security at 443-352-4500 if they have any concerns or issues.  Students are also encouraged to press the emergency buttons on the blue poles around campus should anything occur.