Stevenson Football Joins AFCA Rankings At No. 25
By Grant DeVivo & Alex Rojas
Sports Editors
Last season, Stevenson football began their season 0-5.  It was not a happy place.  This season, the team is a whole new animal , starting 4-0 with a 2-0 MAC Conference record. For the team and their fans, it is all smiles now. 
Their red-hot start has squeezed them into the American Football Coaches Association rankings, where they sit at No. 25.
The undefeated Mustangs helped their case by improving to 4-0 this past weekend at Widener. In enemy territory, they came from behind to defeat the now 1-3 Widener squad 30-14 in front of their home crowd. Wide receiver Steven Smothers received a 12-yard touchdown from quarterback Ryan Sedgwick in the third quarter to cap off the comeback, and Sedgwick took matters into his own hands just moments later for a one-yard rush to extend the lead.
So you have to ask: what happened that caused such a tremendous turnaround for Stevenson football?
"We have spent a ton of time working on changing team culture," Sedgwick told The Villager's Alex Rojas about the turnaround. "Really focusing on buying into a player led program based on holding each other accountable. I think that has a lot to do with our team success."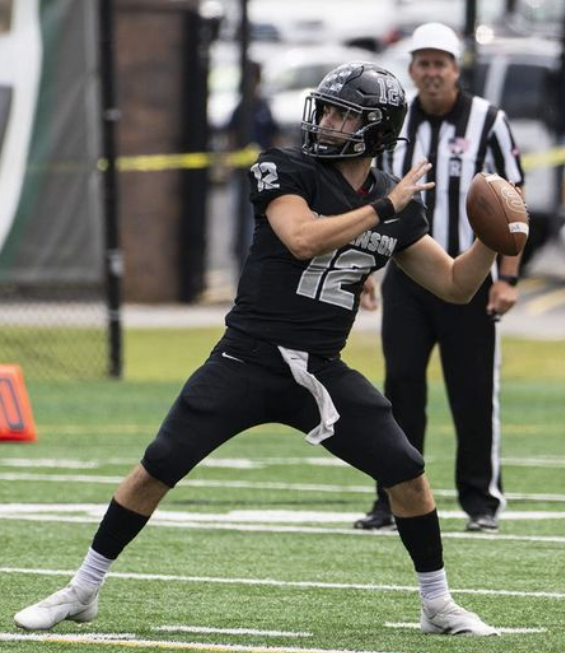 It could easily be argued that Sedgwick has been the centerpiece of the team's new-found success this year. A senior from Crofton, Maryland, Sedgwick has led the charge as head coach Ed Hottle's trusted quarterback while continuously setting individual records for the university. His defense has backed him up, holding opponents 5.58 passing yards per attempt and 159 per game while also forcing 108 yards lost on opponents.
"My individual success would not be possible without many teammates and coaches who have had huge roles along the way," Sedgwick said. "I have been grateful to have an awesome group of offensive linemen that gives me the time to make reads and throw passes. I have also played with a ton of great receivers who have consistently made my job a lot easier."
Sedgwick's 221 passing yards against Widener made him the university's all-time leading passer with 6,632 passing yards. On Sept. 10 vs. former No. 21 Salisbury, he also set another program record for career touchdown passes. He now has 62. It has been one amazing historical season for Sedgwick, and he looks to continue the groove he is in through the rest of the season.
Sedgwick and his team will head into Saturday looking to improve to 5-0 as they square off against possibly their toughest challenge of the year in No. 10 Delaware Valley, who came off a 41-0 win at Misericordia. Their offense will have to be on point as Delaware Valley's defense has only allowed 139 yards and 5 points per game this season.
"Saturday is all about going 1-0," Sedgwick said. "We prepare for this week just like any other week. The challenge will be to focus on us and ignore the outside noise that may be a distraction. We all look forward to playing this one at Mustang Stadium, it will be a big test for this team, and I could not be more excited."
Stevenson and Delaware Valley will face off against each other at Mustang Stadium this Saturday. Kickoff is set for 12 noon.
More information will be available as more news breaks.