FEELING HUNGRY?
Check out these affordable and delicious dining spots in the Baltimore area the next time you're feeling hungry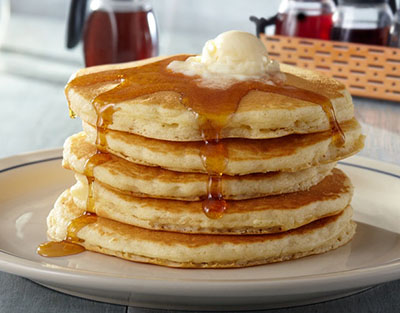 Finding places to eat in the area can be quite a challenge, especially in college. While some might be looking for a place to get delicious sweets and treats, others might be looking for hot or savory flavors that fill their hunger. The Villager has put together a guide of food places to try in five different categories: Breakfast, Lunch, Dinner, and Late-Night Sweets!  
For those who are looking for breakfast spots: 
IHOP is located at 10917 Boulevard Cir Suite 110, down the hill from Stevenson's main campus. The hours are constant throughout the week, opening at 6 a.m. and closing at 11 p.m., however, on Fridays and Saturdays, the establishment closes at 12 a.m. This is an iconic spot where most college students and families sit down and eat delicious breakfast food.  
Eggspectation is one of the most popular breakfast places alongside IHOP. Located at 10209 Grand Central Ave #126, the restaurant is known for its egg-based meals such as omelets, eggs benedict, waffles, pancakes, and more. Other a la carte choices include bacon, a fruit cup, sausage, ham, and more! The restaurant is open from 7 a.m. to 9 p.m. Monday – Friday, 7 a.m. to 9:30 p.m. on Saturdays, and 7 a.m. to 8 p.m. on Sundays.  
THB Bagelry is s new spot college students are raving over. The Towson-born company is located at 10288 Mill Run Cir Suite 100 and has unique yet mouth-watering bagels that are authentically made. Some fun bagel colors include purple and rainbow while classic bagels such as everything or plain are also options to choose from. The hours are Monday-Friday 6 a.m. to 4 p.m. and Saturdays and Sundays from 7 a.m. to 4 p.m.  
Interested in lunch options? Check out these recommendations: 
Neo Pizza & Taphouse is a hot spot for Stevenson students as the location just opened and welcomed Mustangs with open arms. Placed at the bottom of the hill from Stevenson's main campus, 10995 Owings Mills Blvd Suite 100, is where you want to be for lunch! Open from 11 a.m. to 10 p.m. Monday – Thursday and 11 a.m. to 11 p.m. Fridays and Saturdays, Neo Pizza is a new spot to explore! 
Vito's Express is an easy option for those who do not have a car. Located at the bottom of the hill at 11000 Owings Mills Blvd Suite # 3, this SU Flex-accepting business offers tasty pizza, subs, cheesesteaks, and more. The hours are 10 a.m. – 9 p.m. Sunday-Thursday and 10 a.m. – 10 p.m. Friday and Saturday.   
Nalley Fresh offers delicious health-conscious options for those not interested in pizza or fast-food greasiness. Whether you're vegan, vegetarian, keto, or more, the possibilities are endless at Nalley Fresh. The location is 10120 Reisterstown Rd #30 and is open from 11 a.m. to 9 p.m. weekly. 
Cava is a popular Mediterranean restaurant with a similar concept to the well-know Mexican chain, Chipotle. Customers get the experience of building their own combination of food from protein-loaded bowls to fresh, crispy salads. Located at 10130 Reisterstown Rd Suite 30, this local spot is a good place to get a fast and energy-loaded lunch. Store hours are 10:45 a.m. to 10 p.m. weekly. 
Looking for a nice dinner spot? Here are some suggestions!  
Calling all Italian lovers! Rincon Italian is one of the few authentic Italian restaurants in the area. It offers a variety of hand-made traditional Italian dishes such as pasta, pizza, subs, and more. The address for this restaurant is 11299 Owings Mills Blvd and it is open from 4 p.m. to 9 p.m. on Sundays, 11 a.m. to 9 p.m. Monday through Thursdays, and 11 a.m. to 10 p.m. Fridays and Saturdays.  
Jose Tequilas is a Stevenson favorite! From chips and guac to margaritas, and more, this can cuisine restaurant is a must-try. Just a five-minute drive from campus to 10500 Owings Mills Blvd, this restaurant is open from 11:30 a.m. to 9:30 p.m. on Sunday, 11 a.m. to 10 p.m. Monday through Thursday, 11 a.m. to 11 p.m. on Fridays, and 11:30 a.m. to 10:30 p.m. on Saturdays.  
 
Looking for a late-night sweet treat after? Here are some options. 
Insomnia Cookies is an establishment well-known for its delicious late-night snack. The store is cozied away in Towson Town center at 407 York Rd. It is open from 12 p.m. .to 1 a.m. on Sunday, 11 p.m. to 1 a.m. Monday through Wednesday, 11 p.m. to 3 a.m. Thursday and Friday, and 12 p.m. to 3 a.m. on Saturdays. 
Crumbl Cookie is a new favorite. Located at 10200 Mill Run Cir Suite 102, the establishment offers new and innovative flavors weekly. The flavors this week are Peanut Butter Crisp ft. Butterfinger®, Chocolate Malt Featuring Tootsie Roll®, Original featuring M&M's® Candies, Classic Krispies Bar Featuring Rice Krispies®, Strawberry Limeade Featuring NERDS®, Classic Milk Chocolate Chip, and a Mystery Cookie! It is closed on Sundays but opens Monday through Thursday from 8 a.m. to 10 p.m. and 8 a.m. to 12 a.m. on Friday and Saturday.   
Baskin-Robbins is another classic! Since it is close to Stevenson's main campus at 10902 Boulevard Cir Suite 5, the place takes SU Flex and is open from 5 am to 11 pm weekly. Flavors include Cotton Candy, Icing on the Cake, Pumpkin Cheesecake, and more! 
Donate to Stevenson Villager
Your donation will support the student journalists of Stevenson University. Your contribution will allow us to purchase equipment and cover our annual website hosting costs.