GUARDING HER FUTURE
Stevenson shooting guard Laci Johnson has transitioned well into college basketball and has people excited about her future ahead 
It all started with a conversation with the coaching staff and some light recruiting. Within months, sophomore guard Laci Johnson was on board Stevenson women's basketball team, and a special collegiate career was underway.  
Johnson remembers how she began with Stevenson women's basketball long before she committed.  She was already in talks with head coach Jackie Boswell and now former assistant coach Reggie Daniels, who eventually made their way down to Herndon, Virginia in January 2021 to watch Johnson play at Herndon High School. It was a rare recruiting opportunity thanks to the COVID-19 pandemic still raging on at the time. 
Once she finally got an opportunity to see Stevenson's campus and meet her future teammates for the first time, Johnson knew that Stevenson was the place for her. 
"I fell in love with the campus, [and] I met some of the girls on the team and fell in love with them too," Johnson said. "I committed here because I knew it was the right place for me." 
Boswell said she looks for speed and athleticism when recruiting guards. As Johnson's Stevenson career took flight, Boswell took immediate notice of the talent Johnson possessed and that she brought all of those traits to the table.  
"She reminded me a lot of the guards that we've had in the past and that we have been able to be successful with," Boswell said. "So we knew her style was going to fit what we wanted to do, and we have usually been successful with [that]."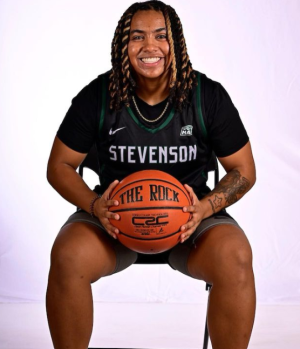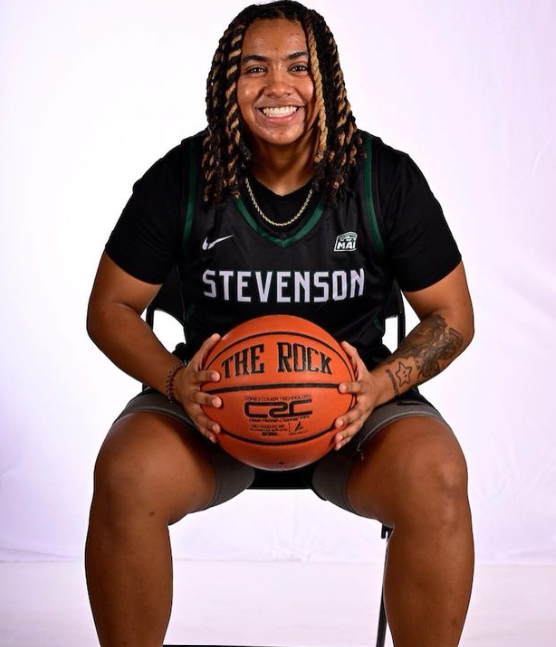 Her teammates took immediate notice as well. Like Boswell, senior guard Morgan Pennick was also reminded of past Mustangs who are now being succeeded by the young Johnson.  
"There are a lot of girls that I have played with in the past, and she reminded me of the girls that came in front of me," Pennick said. "I was happy to see that coach Jackie recruited her." 
That talent began to blossom, and it has quickly gotten better. In her freshman season in 2021-2022, Johnson totaled 107 points while dished out 33 assists and grabbed 31 rebounds. She had a .333 field-goal percentage. So far this season, her sophomore year, she has scored 49 points in 85 minutes played, and she's shooting at a .388 clip. Her recent play earned her a Mid-Atlantic Conference Player of the Week award on Nov. 21. 
Johnson has cited all of her off-the-court and off-season work as a big reason why her 2022-2023 season has gone so well so far.  
"Over the summer and even now, I am pretty much in the gym every day, and I am putting in the time because I really want my stats to show [my hard work paying off]," Johnson said.  
She also said that being positioned as a shooting guard with point guard Pennick has helped her offensive skills.  
"I have Morgan to give me the ball," Johnson said. "It helps me showcase my scoring more, and [Morgan] can get more assists with [me] too." 
In addition to her improvement as a shooter and scorer, Johnson's 3-point shots have become the norm as she is 4-for-5 in 3-pointers this season, which is a nearly unheard of .800 shot percentage. 
"I definitely want to contribute scoring more on offense," Johnson said, "because I had a major role of scoring in high school, and from last year to this year, I know I can grow more offensively. There were a lot of learning points that I got to learn from [when] I messed up, so I got to learn from that. I definitely feel like that carried over this year, so I am just going to continue." 
Pennick said Johnson's 3-point shots will be available all year and that Johnson's already made some important shots. 
"The offense that we want is fast-paced, so when she is there on the catch, she is a good catch-and-shoot guard," Pennick said. "She also attacks the basket and is efficient in that [area]." 
"[Offense] is definitely something we discussed [before the season," Boswell said. "I know when they were playing pickup, Laci was doing a lot of scoring in the offseason in pickup. We know she is going to shoot the ball well. She's got the green light to shoot the three. As teams begin to scout her, we need her to be able to read defenses better.  
"Otherwise right now, she is off to a great start, and now she needs to keep countering whatever another opponent is going to do to her," Boswell added. 
Pennick sees a lot of growth out of Johnson from the first year to now. According to Pennick, no one in the MAC can stop her. 
"Laci is not fearful at all; she playing like a very experienced player," Pennick said. "She attacks what is in front of her, and she is not playing like a young [inexperienced] player." 
The one important thing that Johnson has accomplished and handled well is moving on from high school and entering the college arena. Both Johnson and Boswell acknowledge that it is an extremely difficult transition.  
"I had high goals coming into college," Johnson said. "In high school, I had a pretty big role and when I came to college, I did not know if I was going to have a role like that because I know it is a big jump going from high school to college." She seems to have found her place and her role on this team now that she has settled into Mustang hoops. "My role last year from this year changed. I had to fit in; I had to figure out where my role was on the team. [My role] is different from high school but I have to make it work. 
"I have found my role on this [Stevenson] team," Johnson concluded.  
Boswell noted the difficulty that some high school players have in transitioning to college. 
"High school players are usually at the top of their teams," Boswell said. "They play a lot, they do everything for the team, and they that it is going to be an easy transition into college.  It is really hard because people are scouting them, and people are not going to let them get the shots that are going to hurt [their team]."  
Boswell praised Johnson for her ability to transition. She stated that she has met all expectations so far, though that does not mean the grind ends at once. There is still more that they expect out of her.  
"As a sophomore, we are asking her a lot to do," Boswell said, "and so sometimes, I have to remember that she is still a sophomore, that she is going to make mistakes, and that it is not easy at this level. 
"We are just going to keep pushing her," Boswell added, "because I do not think she has reached how good she can be yet. It will take a lot of us [coaches] pushing and a lot of her allowing to be pushed." 
Goal setting has been a positive trait that has followed Johnson during her career. She strongly believes Stevenson women's basketball is destined for an NCAA championship soon and wants to be part of a championship team before she graduates. 
"I got big goals. I definitely think we can win the NCAA championship," she said. "That is one of my goals while I am here. We can all do it together, [but] we just got to keep pushing through." 
It has already been a successful start to Johnson's young career. Where does she go from here, and how will the career of Laci Johnson at Stevenson University continue to trend upwards? 
"She is already a leader now in my eyes," Pennick said. "Once I am out [of Stevenson], I can see her leading the team and her scoring improving next season and the next season after that. I see her doing great things for the rest of her career." 
Johnson said she'll continue to work hard. 
"I am going to just keep grinding," Johnson said. "I am going to keep leading on the floor, keep getting the ball to my teammates, keep listening to coach, and it is all going to come." 
Johnson and the Mustangs are on the road with an away game tonight at Hood College. Tip-off is scheduled for 8 p.m. as the Mustangs will look to improve to 2-3 and rebound after a tough 65-59 loss to Salisbury University on Nov. 22. 
Donate to Stevenson Villager
Your donation will support the student journalists of Stevenson University. Your contribution will allow us to purchase equipment and cover our annual website hosting costs.
About the Contributor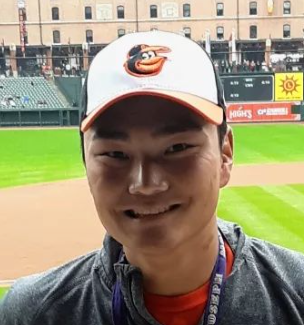 Grant DeVivo, Sports Editor
Grant is a senior from Westminster, Maryland. He served as the Villager's sports editor in 2022-23 after being on staff in 2021-22. He attended Mount St....