POWERFUL STORIES
Sophomore film major and her crew are producing a documentary about Baltimore superfan Mo Gaba
A dream to pursue film in the professional sports world has finally come true for a Stevenson University student. From the moment she first held a camera in her hand at age 11, she knew this was going to be the start of a new passion.  
Bella Beck is studying Film and Moving Image at Stevenson University. In her sophomore year, she realized she doesn't just want to make videos, she wants to produce and create for professional sport teams.  
Through taking a documentary production course at Stevenson University, Beck and her group chose to do their final project in partnership with the Ed Block Courage Foundation.  
"We had the option of choosing between five clients," Beck said. "Mo's story stuck out to me because it was more sentimental compared to the other options especially because he had such a legacy in the Baltimore community." 
The documentary is about how Mo Gaba inspired the Mo Gaba Courage Award given out by the Ed Block Foundation. This film will be shown to the NFL teams in hopes to spread the award throughout the teams and states.  
Beck is the director of the documentary. She has been working day in and day out to create the perfect video for this project.  
"I want to have a career in the professional sports industry. I make highlights for the sports teams at Stevenson and would love to continue creating them throughout my career one day," Beck said. "So, this opportunity through the Ed Block Foundation is super exciting." 
Each year, the Ed Block Courage Award honors the NFL players who exemplify commitments to the principles of sportsmanship and courage. This award is unique in that the recipients are selected solely by a vote of their teammates.  
Brett Dickinson, the Director of Operations of the Ed Block Foundation, didn't think this one award was enough. 
Dickinson is also the founder of the Mo Gaba Award. He wanted to create an award named after Gaba and decided to award it to one kid in every NFL Courage House each year. The 27 Courage Houses help underprivileged children. Beck and her group have been working with Dickinson throughout the entire fall semester to create this professional documentary for him. 
"Mo was the first person to announce an NFL draft pick written in Braille." Beck said. "His story is so inspiring and definitely helped me become a better filmmaker and person. It was truly an honor creating a documentary about him." 
The story of Mo Gaba is going to be one of the most featured parts in this documentary. He was 14 when he unfortunately passed away from osteosarcoma. Gaba was blind and spent most of his time in and out of hospitals, but when he wasn't in the hospital, he could be found being a superfan of the Baltimore Ravens and Orioles. 
"There is plenty of documentaries out there about Mo and his story and how much of a fighter he was," Beck said. "But I think it was a great opportunity to not only tell his story once more but show why he is so deserving of this award." 
Beck and her team wanted to create a special tribute to Gaba. He had such a huge impact on the Baltimore community, and they wanted to highlight on that. Beck found it her duty to find the right people to interview and people who knew Gaba personally so they could enlighten them with their stories. 
Ian Whisner is the producer of the documentary and works closely with Beck in creating this masterpiece. "Bella has a great eye for knowing what we need and how it will shape into a final product," Whisner said. "I find working with her is very easy because she brings so much to the table in terms of knowing what she wants and how to get there." 
Beck and her group have interviewed Heather Darney, the Vice President of Community Relations at the Baltimore Ravens, Glenn Clark, founder of Glenn Clark Radio and Brett Dickinson. 
Clark was specifically a touching interview to Beck. He knew Gaba personally and had him on his radio station many times.  One interview was at Mustang Stadium on Stevenson's campus.
"The interview was quite emotional about Mo and his story and how much of an impact Mo had on him personally," Beck said. "Glenn mentioned in a part of the interview how when he touched Mo's hand, he felt God. He stated how he's not a very religious person, but it was something that changed his perspective and has stayed with him to this day." 
Beck and her group expect to be finished with the documentary before Christmas. The video will be shown to all NFL teams and will be featured on the Ed Block website. 
"A hundred years from now it will not matter what my bank account was, the sort of house I lived in, or the kind of car I drove," Gaba said before he passed. "What will matter is that regardless of the adversity I faced, no matter its severity, I viewed each day as a gift, spread positive vibes, encouraged kindness and loved, while inspiring others to do the same. Because these are the things that echo in eternity."  
Donate to Stevenson Villager
Your donation will support the student journalists of Stevenson University. Your contribution will allow us to purchase equipment and cover our annual website hosting costs.
About the Contributor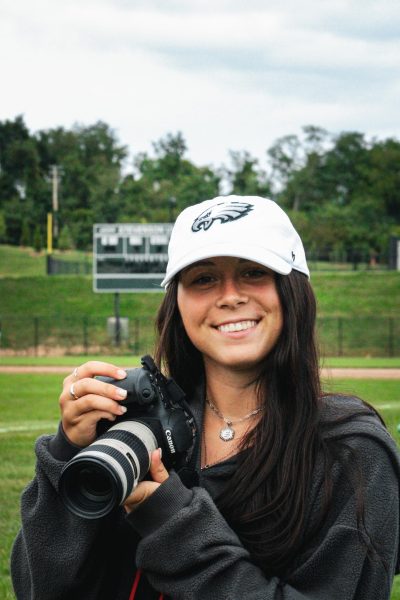 Emma Trimble, Photography Editor
Emma is a senior business communication major with a minor in film and moving image. Outside of taking pictures for The Villager, Emma also works for Stevenson...