ONE BIG FAMILY
Several different bonds are coming around full circle at Stevenson women's basketball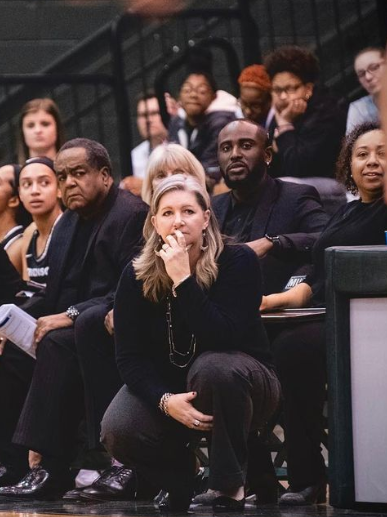 Family. 
It is a word that everyone knows, but it is a word with a significantly deeper and emotional meaning for the Stevenson women's basketball team and head coach Jackie Boswell.  
Tons of deep connections and relationships make up for the chemistry of the team. Fans can trace these bonds back long before the Boswell era began in 2011.  
THE COACHES 
It starts with the coaching staff. Boswell's relationship with coaches Ray Brown and Cassie Puls traces back to Baltimore's Seton Keough High School, where Boswell was the head girls' basketball coach and athletic director from 2000 to 2011. She led the Gators to a 235-82 overall record during her stint at Seton Keough and took home the 2009 Maryland A Conference state championship.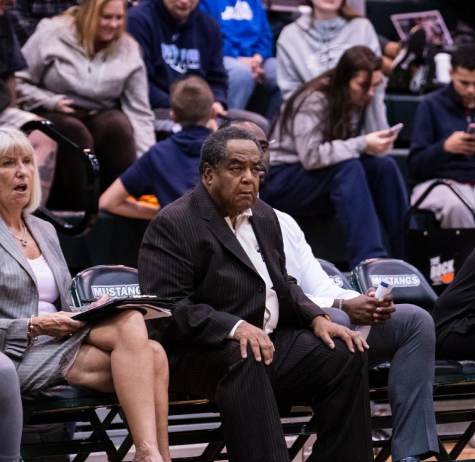 Brown, whose daughter played for Boswell in previous years, was on Boswell's coaching staff during her debut season in 2000. Brown was Boswell's first-ever assistant coach. Puls joined Boswell and Brown at Seton Keough in 2003. Puls is especially thankful for the coaching opportunity from Boswell. A year before she was brought onto the coaching staff, her daughter, Meghan (also a former player for Boswell), died during her junior year of high school. 
"We built a community and a program there," Puls said. "Just seeing how [Boswell] works with the girls and what her philosophies are about basketball and life, it is really something special." 
Boswell is also very thankful for her close relationship with assistant coach Liani Adair, who is entering her 13th season with Stevenson women's basketball. Adair previously served as the girls' basketball coach at Lansdowne High School and was on the coaching staff during Chris Ramer's final season as the head coach. Adair stayed with Stevenson women's basketball as the transition into the Boswell era began.  
She credits her love for basketball and her belief in the future of Stevenson University as to why she remained with the team and embarked on her journey with Boswell. 
"When I got an opportunity to work here with coach Ramer, it was evident where the university was going and the good things that were going to happen around here," Adair said. "When coach Boswell got the position, I wanted to stay on because I just knew this program could definitely do some really good things.  
"Since then, we have built a really good friendship," she continued. "It is nice to work with someone that you can truly call a friend."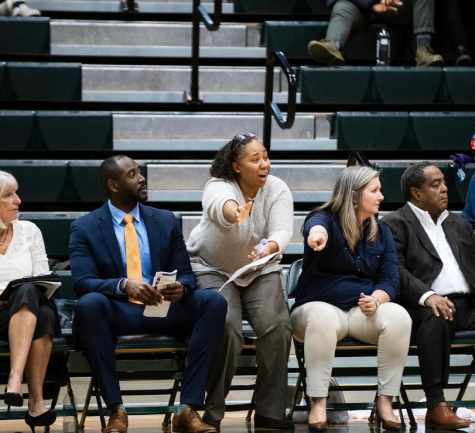 Boswell said Adair's passion for the Mustangs has been evident from the start. 
"She thought we could do some really good things here," Boswell said. "She believed in the program, the school, and the mission." 
The four coaches, and Puls — have a lot of memories together. They cited their trip to the 2015 NCAA tournament as their favorite moment together. As proud as they are of the resume they have put together, all of them want to make sure that the relationships made on and off the court carry just as much (if not more) importance as wins and losses.   
THE KEOUGH CONNECTION 
Boswell's longtime connections go beyond the coaching staff. It reaches the players as well. She has known senior guard and Randallstown, Maryland native Morgan Pennick since Pennick's elementary school days. 
Pennick attended Holy Angels Catholic School, the elementary school on the Seton Keough campus. That is where she befriended Boswell, and she would often find herself shooting hoops on the court in front of Boswell while talking about the dream of playing for Boswell at Seton Keough. 
"Coach Jackie was a legend in Baltimore, leading great Seton Keough teams, and I always wanted to play for her," Pennick said of the dream. "My dad was always like 'say hi to coach Jackie!'"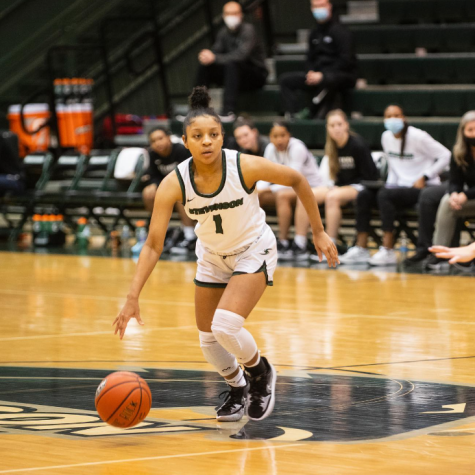 Before the dream could happen, Boswell was hired as Stevenson's head coach. So Pennick and Boswell went their separate ways for four years with Boswell coaching at Stevenson and Pennick playing at Seton Keough and Archbishop Spalding (after Seton Keough closed in 2017). In 2019, the dream they had for the high school level became a reality for the college level when Pennick was recruited to play for Stevenson.  
Pennick rose to the occasion quickly. Boswell said that she likes playing a first-year point guard behind a senior point guard, though an injury to then-starting point guard Dania Campbell forced Pennick into Campbell's spot quicker than expected. Since her debut, Pennick has compiled a successful career under her friend Boswell. She is now a senior with 156 career defensive rebounds and 166 career assists. This year, she has started in every game, putting together a .250 shot percentage with 35 assists.  
Both Boswell and Pennick are happy with how things have turned out.  
"I am happy that I am finally here, that I have created a great relationship with her even beyond basketball," Pennick said while reminiscing about the many team dinners that she has had at the Boswell house. "As a senior [in high school] when everybody was finding out where I was going and everybody was like 'you're playing for coach Jackie Boswell!' I knew I made the right choice." 
Pennick also mentioned her desire to stay local for college and how Boswell would help her feel at home during her college experience. 
"I am a local kid, so I wanted to stay here, and I knew coach Jackie would be my home away from home," she said. 
Boswell complimented Pennick and her class for sticking it out during the COVID-altered years and for making it all the way through up to now. Pennick's class was altered by the pandemic for the first two years of their career, and she is one of only a few originals left from her class. 
"Let's face it: the senior class had to fight through a lot these past couple of years," Boswell continued. "The pandemic occurred during their sophomore and junior year, so it really altered some careers and the vision you had. The fact that Morgan and those three really stuck it out helps push us beyond this pandemic now."  
Boswell is savoring her final season with Pennick while always remaining thankful for her longtime friendship with Pennick. 
"It was always a dream for both of ours to play together," Boswell said. "You carry over the family part when she was little, and I'm proud of everything that she has been able to accomplish in the academic area and on the court. When she came in, we had a huge freshman class. She's only left with two other originals from that class, and she has been able to incorporate the two transfer seniors we have and work together with Aliyah Jean-Jacques and Ellie Boswell to really bring us through." 
As she reflects on her Stevenson basketball career, Pennick is grateful for the whole coaching staff, not just their support in basketball, but for being there for her academic and personal success as well. Pennick has taken to heart the coaching staff's message about academic success coming first before basketball. 
"I've had conversations about my academics with all of them," Pennick said of the coaches' support. "Basketball is going to end one day. I've had mentor conversations with them, and they all preach being a good person. I feel like the coaching staff embodies that."  
MOTHER AND DAUGHTERS 
Then, there is the trio that puts the word family into reality. Literally, there is a real family connection on the team. Boswell is coaching her two daughters: senior Ellie, and first-year player Tessa. Both are forwards.  
The story goes that neither Jackie nor Ellie and Tessa thought that they would ever end up on the same Stevenson court with each other. Jackie wanted her daughters to be active and live their own lives. She recalls Ellie being involved in several sports, including basketball and track, whereas it was evident that Tessa began prioritizing basketball. When Ellie decided to play basketball at Stevenson for her mom, the reality of a mother-daughter bond on the team excited Boswell. 
Ellie said her initial plan was to avoid Stevenson. 
"I didn't want to go [to Stevenson] for a really long time because I feel like it was something people expected from me and that it was already written for me," Ellie said. "I thought I knew the school very well and I wanted to go to a new area and live far away. That is not who I am at all. I am definitely glad I stayed close to home." 
Ellie recalls how a conversation on the beach with Jackie and Tessa prompted her to look at Stevenson. Once she visited campus, she fell in love with the school and decided that she "did not want to be coached by anyone else." 
Jackie then hoped that Tessa would do the same, but she did not want to pressure her into becoming a Mustang if she did not want to. She was even with Tessa during her other college visits outside of Stevenson playing the "mom role" as she calls it. 
Tessa, who is also on Stevenson softball's roster, said it eventually came down to two choices: the Coast Guard Academy or Stevenson.  
"I never thought of coming to Stevenson until my junior year of high school," Tessa said. "It was all or nothing, but then I decided I should probably stay home." 
In some cases at other universities and team sports, a parent-child combination can cause tensions within a team with issues like favoritism harming team chemistry. That is not the case with the Boswells, as both Ellie and Tessa acknowledge that there is no special treatment.  
However, there was early concern about how this mother-daughter relationship would be received within the team, especially when Ellie first joined.  
"At first with Ellie coming in, it was always a worry if people would think differently of her," Jackie said. "My older players at the time were pretty confident that she would not get any special treatment, but you never know how her own peers [will react]." Boswell went on to describe how those worries went away as she saw Ellie get accepted by everyone up and down the roster.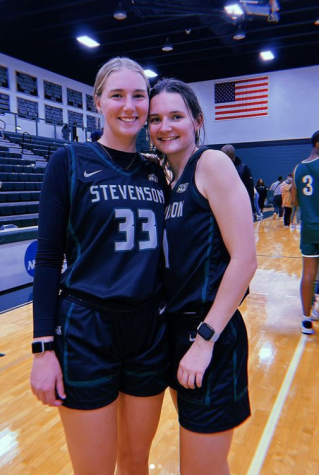 With Ellie being a senior and Tessa's first season nearly complete, as one career ends another has just begun. Has Ellie done her job in being a leader for her younger sister Tessa as the next Boswell era begins? According to the team, you bet she has!  
Jackie says Ellie, who plans on becoming a teacher upon graduation, has set that example for Tessa not just on the basketball spectrum, but in the academic field as well. 
"The expectation that we have held in our household has been to not change when it comes to academics," Jackie said, "but Ellie has come in and has shown what a responsible college student looks like. Tessa is still going to pave her own way, though. They want different things in the time they are here. I think that Ellie was a positive role model, and I think that Tessa will take what Ellie taught her and will pave her way through that."  
Tessa agrees, saying that Ellie is the main reason that she chose Stevenson University.  
"When she said 'oh, I'm coming to Stevenson,' I said 'hmm, maybe I'll just do what she does,'" Tessa said with a laugh. "I saw her doing really good at Stevenson. She was doing well with basketball, she was doing good in class, and she talked about how much she loves Stevenson. I said 'I'm going to jump in on that one' because I'm going to believe what she says. 
"Ellie was my best friend growing up, and I've always looked up to her." 
In addition to the credit that she receives in a big sister role, Ellie admits that she did not feel like she needed to do a whole lot, as she had full confidence that Tessa would have early success in her Mustang college career.  
SEASON'S END 
The Mustangs are 7-17 overall with a 6-9 conference record. Their season will end this Saturday with senior day featuring one last day with this group that has come around full circle this season.  
As this one season that Jackie has with Tessa and Ellie nears its end, she is trying to soak it all in with what is left of this season with her two daughters. 
"I don't think that there have been many college coaches that have been able to coach both kids at the same time," she said, also mentioning her deal with Ellie that she would walk her out onto the court on senior day which is now just days away. "I am just very grateful for that. I am just trying to enjoy every second of these last couple of weeks with Ellie and Tessa. 
"They work really hard, they are good kids, they don't get in trouble, and they have not caused me or their dad any problems at all," Jackie continued.  
Many other Stevenson women's basketball players have been gratefully impacted by the Boswell sisters during their careers as well. Pennick did not hold back in showing her appreciation for Ellie and Tessa.  
"Ellie is my role model, and I am grateful to call her one of my good friends," Pennick said, adding that Ellie inspired her to get involved in extracurricular activities off the court. "It is funny how we are talking about family because we have big sister and little sister. Tessa is my little sister on the team, and I love her equally as well. I am proud of how she has developed so far, and she is playing very well. I have high expectations for her. 
"They come from a great family, and I just love both of their energy," Pennick continued. 
THE BOSWELL LEGACY 
The name "Boswell" has become a legacy for itself, and it continues to be a huge part of Stevenson women's basketball. The family is well aware of how popular the name is. So many people have been touched by Jackie's impact and leadership, in addition to the family environment that she has created with everyone she has come across. 
"The name 'Boswell' is such a strong name to hold," Pennick said, noting that Boswell's 2014-15 team was Stevenson's first to make the NCAA Division III tournament, where the Mustangs won a first-round game before losing in the second round.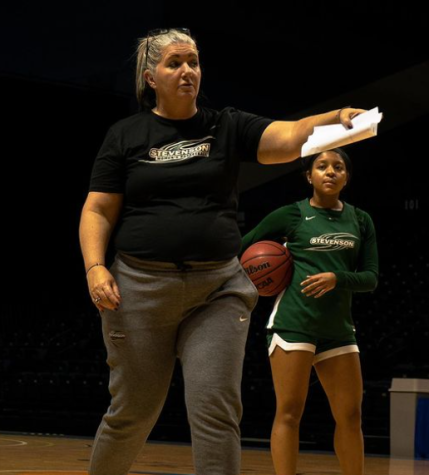 Boswell's Mustangs have made seven playoff appearances in the first 11 years of her Stevenson career. She also has 160 career wins and a Commonwealth Coach of the Year award. She has coached several successful Mustangs including Sara Tarbert, a D3hoops.com All-American and a two-time All-MAC Commonwealth Player of the Year winner. Now, she has Ellie and Tessa over the course of seven years (of their college years combined) further amplifying the Boswell impact at Stevenson University. 
If there is any question about whether she has made a positive impact on Stevenson women's basketball, she has gone above and beyond that. Puls sums up her legacy in one simple way. 
"That legacy that [Jackie] she started here will continue on well past her time," Puls said. "The people that she's impacted will keep coming back, and they will impact other people with the philosophies that she's embodied in them." 
Knowing that her mom is the one who "brought the name to Stevenson," Ellie calls her mom "the Boswell" and her personal role model. 
"I don't think I've ever looked up to somebody so much before," Ellie said. "I don't even think twice about it when somebody asks me who my hero is. I hope she realizes how amazing she really is at what she does because it does mean something that two of your three daughters wanted to go [to Stevenson with her]." 
Tessa said she knew her mother's players loved their coach. 
"So, I was like 'why would I go anywhere else [for college] if I know exactly what I am going to get?' Tessa said. "I knew what she was going to do for me, and I knew what I was going to do for her." 
With all the credit that she and her family have received, Jackie wants people to know an important lesson that she has learned as a Stevenson pioneer.  
"If you want to make real change in things, you have to be able to impact the immediate people that you deal with on an everyday basis," she said. "The more people you can impact in a positive way, then hopefully they impact people. That is the way you make the change that everybody so desperately needs right now." 
Even as some members of the family go their separate ways at the season's end, everyone acknowledges that the family connection within the program and the current roster will not ever go away.  
"What I try to teach is that there is always something bigger than yourselves," Jackie said. "Long after the name 'Boswell' is gone, what I want is for this program and for everybody else who had been a part of it is to continue to reach out and do great things." 
In the end, Stevenson women's basketball just wants everyone to know one big thing about them. 
They are all one big family.   
The Mustangs will host senior day this Saturday vs. Eastern University. Watch Morgan Pennick and all three Boswells on the court together one last time. Tip-off is scheduled for 1 p.m. 
Donate to Stevenson Villager
Your donation will support the student journalists of Stevenson University. Your contribution will allow us to purchase equipment and cover our annual website hosting costs.
About the Contributor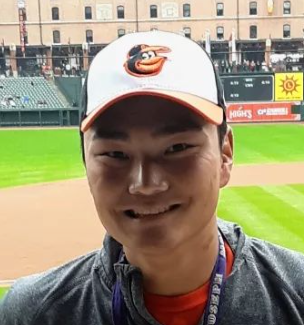 Grant DeVivo, Sports Editor
Grant is a senior from Westminster, Maryland. He served as the Villager's sports editor in 2022-23 after being on staff in 2021-22. He attended Mount St....