TO SPACE AND BACK
Astronaut Scott Kelly shared his experiences after a year in space with students at Stevenson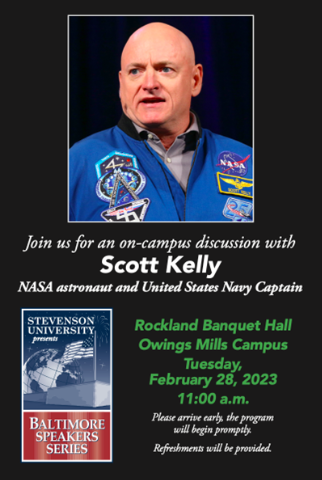 Stevenson President Elliot Hirshman introduced Astronaut Scott Kelly to Stevenson on Tuesday, Feb. 28.  
"He has flown more than 40 different aircraft and spacecraft, so please join me in welcoming Scott to Stevenson," Hirshman said. 
Scott Joseph Kelly is a retired NASA astronaut and United States Navy Captian. Kelly is best known for his year-long mission aboard the Internation Space Station (ISS) from March 2015 to March 2016, during which he set the record for continuous spaceflight by an American astronaut in October 2015.  
In total, Kelly has spent 520 days in space, the most cumulative time in space for any U.S. astronaut. His accomplishments and contributions to space exploration have earned him numerous awards and honors, including the NASA Distinguished Service Medal, the Navy Distinguished Service Medal, and induction into the U.S. Astronaut Hall of Fame.  
Straight off a flight from Boston, Massachusetts, Kelly came to speak to Stevenson's students regarding his experience getting to the position he is in today at the Rockland Banquet. 
Kelly said that he went to University of Maryland, Baltimore County (UMBC) for a year but didn't do so well. He was not a particularly "good student" until he read "The Right Stuff" by Tom Wolfe. He discovered an interest in reading about the original Mercury Seven astronauts.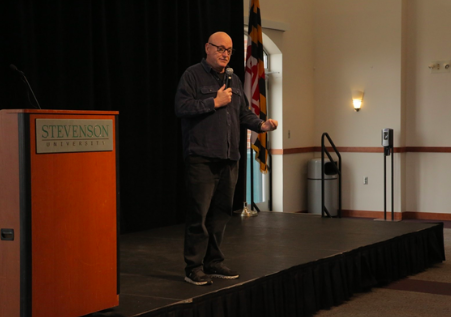 "In about 18 years from the day I read Tom's book, I'm getting ready to fly in space for the very first time on a Hubble Space Telescope mission in 1999," Kelly said.  
The Hubble Space Telescope (HST) is a space-based observatory that has been in operation since 1990. In 1999, the HST underwent its third servicing mission, known as STS-103. This mission was launched on December 19, 1999, and was carried out by the crew of the Space Discovery. 
Sixteen years after his first mission, Kelly spent a year in space as part of NASA's One-Year Mission from March 2015 to March 2016. The goal of the One-Year Mission from March 2015 to March 2016. The goal of the One-Year Mission was to study the physical and psychological effects of long-duration spaceflight on the human body, with the aim of developing strategies for future missions to Mars and beyond.  
"The most challenging thing to adjusting back to earth is the physical effects of the deconditioning that happens to your cardiovascular system. My joints were really sore," Kelly said about his transition of being in space for a year.  
"I would stand up and see my legs blow up like water balloons," Kelly said.  
Kelly's year-long mission was part of NASA's One-Year Mission, which aimed to study the effects of long-term space flight on the human body and mind in preparation for future missions to Mars and beyond.  
Donate to Stevenson Villager
Your donation will support the student journalists of Stevenson University. Your contribution will allow us to purchase equipment and cover our annual website hosting costs.