CHAOS IS COMING
After a surprising 2022 turnaround, the Orioles look to compete for a playoff spot in 2023.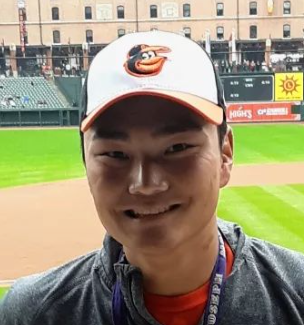 If you told me around this time last year that the then-rebuilding, Baltimore Orioles, would be competing for the postseason, I probably would have laughed out loud. Well, after they went 83-79 last season and barely missed the playoffs, I am not laughing anymore.  
So, ask me how the 2023 Orioles are going to be. I am fully confident in saying that they will have a .500 record and that they will make the postseason as a wild card team in the American League.  
It seems almost strange to think of the Orioles as a competing team so quickly. From 2018 to 2021, they were the laughingstocks of Major League Baseball. During that stretch, they compiled a 178-371 record and finished last in the AL East in all but one of those years. Buck Showalter was fired, the farm system was fractured, and the team was drowned in the drama revolving around Chris Davis' failure of a 7-year $161 million contract. The new-look front office of manager Brandon Hyde and general managers Mike Elias and Sig Mejdal, hired before the 2019 season, had a huge mess to clean up. Many assumed that this rebuild would take years to complete. 
The front office only needed five years to do it, and the O's found themselves holding a wild card spot in August of 2022. As the 2023 season nears, the Orioles have proven themselves to be playoff ready. They should undoubtedly compete and even take home a wild card spot into the postseason this year. 
If there are still people who are not aware of the new Baltimore Orioles, then they will be made aware bright and early into the season. Let's take a deeper look at why. 
Birdland Boppers 
The majority of the O's lineup is built around power. Last year, the team popped 171 home runs while posting a .390 slugging percentage. First baseman Ryan Mountcastle and Outfielder Anthony Santander were responsible for most of the power surge, as they combined for 55 home runs last season. Having those two as the 3-to-4 punch in the middle of the lineup, especially given that the 28-year-old Santander is a switch-hitter, is a lethal punch in manager Brandon Hyde's lineup.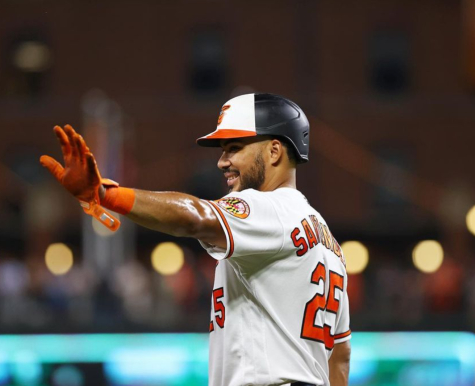 The rest of the lineup provides plenty of home run power behind those two. Speed demon outfielder Cedric Mullins can easily pop 20 home runs, and his fellow outfielder Austin Hays can do the same. Do not sleep on the power that infielders Jorge Mateo and Ramon Urias have. They do not seem like home run hitters, but Urias had 16 home runs in just 118 games last season and Mateo had 13 in 150 games. There is power potential in those two even though it may not seem like it. 
The team has speed potential, too. Mateo and Mullins were number 1 and 2 respectively in the American League in stolen bases last season. Mateo had 35 while Mullins had 34. Top prospect infielder Gunnar Henderson swiped 22 bags at Double-A Bowie and Triple-A Norfolk combined. In past years, speed played a small factor for the power-hitting O's. That is no more, as the Birds' speed adds a dual threat to their already aggressive offense. 
In a hitter-friendly ballpark in Oriole Park at Camden Yards, even amidst last year's renovations with moving the leftfield wall back, keep expecting tons of home runs and tons of power production up and down this promising Orioles lineup all season long.  
The Bullpen 
During the rebuilding years, the Orioles had some of the worst pitching in baseball. In that four-year rebuilding span from 2018 to 2021, Oriole pitchers posted a 5.43 ERA along with a 1.46 WHIP. They walked 1,906 batters while surrendering 876 home runs. Actually, saying that was some of the worst pitching in baseball is generous. 
In 2022, the pitching staff saw a significant turnaround. Led by pitching coaches Chris Holt and Darren Holmes, the team posted a solid 3.97 team ERA with a 1.290 WHIP, striking out 1,214 batters and only surrendering 171 home runs. That is a significant turnaround from recent years, and the O's hope it is onward and upward from here on out with their pitching.  
A major piece of the team's success in pitching came from the bullpen. Flame throwers Bryan Baker, Cionel Perez, and Dillon Tate tailored the back end of the bullpen last year and will do the same this year in 2023, paving way for an imposing 6'8" 280 lb. closer to take the hill in the 9th inning, that is the ginormous Felix Bautista.  
Armed with a 100 MPH sinking fastball, the Dominican Republic native posted a 2.19 ERA in 65.2 innings as a rookie last season, picking up 15 saves along the way. He assumed the closer role after the Orioles shipped then closer and 2022 All-Star Jorge Lopez to the Twins. If his current knee injury heals quickly and if he has a fully healthy season, nobody in baseball will be able to hit him. Let that sink in for a second.  
The Orioles also brought back an old friend to lead the bullpen arms. Mychal Givens, who spent 2015-2020 as one of Baltimore's most effective relievers, is back wearing No. 60 for the Birds after signing a 1-year $5 million deal this winter. In his first six years as an Oriole, Givens pitched to a 3.32 ERA while collecting 20 saves and striking out 406 batters. Since his first departure from Baltimore, Givens has since then pitched for the Rockies, Reds, Cubs and Mets. Younger bullpen arms can learn a thing or two from the 32-year old side armer, who has plenty of experience as an Oriole reliever under his belt. Having him back is a dream scenario.  
The Starting Rotation 
The starting rotation will receive a boost when ace lefty John Means, who threw a no-hitter on May 5, 2021, returns from his recovery from Tommy John surgery. The 29-year-old last pitched on April 7, 2022, when it was revealed that he tore an ulnar collateral ligament in his throwing elbow, requiring surgery. The 2019 American League Rookie of the Year runner up will need to spend a good deal of time rehabbing in the Minor Leagues before getting back to the Orioles, but it will be a big sigh of relief when he toes the rubber for the Birds again. He has been missed desperately despite still traveling with the team all season last year and participating in February's Birdland Caravan fan events. 
Until then, other guys will have to step up and fill in. The Orioles did make two acquisitions prior to Spring Training, signing 35-year- old righty Kyle Gibson to a 1-year $10 million contract and acquiring lefty Cole Irvin from the Athletics.  
Gibson's 10-year career includes a 1st round selection, a career 4.52 ERA, an All-Star nod in 2021, and a trip to the 2022 World Series with the Phillies. Gibson, who has been named the Opening Day starter, will likely be around for one lone season to eat innings and play a leadership role for the rest of the developing Oriole arms. Irvin is a lot younger than Gibson, but he gives the O's a solid left-handed piece to the rotation that they have been desperate for. In 30 starts for Oakland last year, the 29-year-old posted a 3.98 ERA while posting a great 1.16 WHIP.  
It will be interesting to see which steps the younger arms take in 2023, specifically Kyle Bradish and Dean Kremer. Bradish, 26, pitched to a 3.38 ERA in the final two months of the season and looks to live up to his promise as the centerpiece of the 2019 trade for Dylan Bundy. Kremer, 27, had a 3.24 ERA in 22 starts last season and is the last hope that the Orioles have from what is left of the fallen 2018 trade for All-Star third baseman Manny Machado.  
The team will have to decide what to do with top prospect lefty DL Hall. The 24-year old flamethrower was raised as a starter, but command issues and injuries could push him to the bullpen. He walked 6 batters in 13.2 innings last year and had a 1.68 WHIP. The hope is that he figures it out as a starter, but a high-leverage bullpen role is not out of the picture either. 
The Adley Affect 
One positive thing about having the worst record in Major League Baseball is that you get the No. 1 overall pick in the draft the following season. After posting an unbearable 47-115 record in 2018, the Orioles were rewarded with the first pick of the 2019 MLB draft. They had the freedom to choose anyone that they wanted to help bolster the future of the organization. 
They chose Adley Rutschman, a 6'2" switch-hitting catcher from Oregon State University. That pick was a pot of gold from the moment it happened.  
Rutschman only needed two and a half years in the Minor Leagues before getting the call to the show. During that time, he hit .281 and was named the No. 1 prospect in America. Prior to his arrival to the MLB, the Orioles held a 16-24 record. It seemed that Rutschman was the sparkplug they needed because following his Major League debut on May 21, 2022, the O's went 67-55 the rest of the way. If that alone does not speak volume to the leadership and potential that Adley brings to the team, then I don't know what does.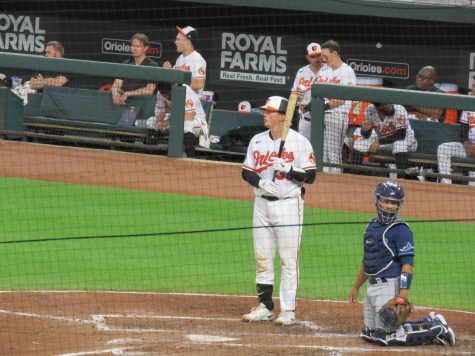 The 25-year-old had a fine rookie season. He hit .254 with 13 HR and 42 RBIs. His 35 doubles passed Cal Ripken Jr.'s record of 34 for doubles in a rookie season by an Orioles. He also developed one of the best batter's eyes in baseball, recording 65 walks to add to an impressive .362 on-base percentage. 
Rutschman's defensive talent as a catcher is far more advanced than your average Major League catcher. He threw out an unheard of 68% of would-be base-stealers, and he was only charged with 23 wild pitches. What stands out about Rutschman is his ability to frame pitches and steal strikes. He is widely considered one of the best pitch framers in baseball after posting an 8th best 0.013 called strikes above average percentile. 
Rutschman's efforts earned him second place in the American League Rookie of the Year voting, finishing behind Seattle Mariners outfielder Julio Rodriguez. Long story short, Rutschman is a generational talent, a special player and a level-headed man that is hard to find in today's game. If the Orioles have Rutschman calling the shots behind the plate, they will be winning games for a long time. 
The Young Guns 
Some of the O's top prospects will debut this season, and this will make the Orioles double the threat than they were heading into the season. According to MLB Pipeline, the O's have 8 Minor Leaguers named on the list of baseball's Top 100 Prospects. That list includes (with their 2022 Minor League statistics): 
IF Gunnar Henderson (No. 1; 2019 2nd Round Pick; .297, 19 HR, 76 RBI, 22 SB) 
RHP Grayson Rodriguez (No. 7; 2018 1st Round Pick; 2.62 ERA, 0.991 WHIP, 109 K) 
IF Jackson Holliday (No. 12; 1st Overall Pick in 2022; .292, 1 HR, 9 RBI, .911 OPS) 
OF Colton Cowser (No. 40; 1st Round Pick in 2021; .298, 19 HR, 66 RBI, .874 OPS) 
IF Jordan Westburg (No. 74, 2019 1st Round Pick; .265, 27 HR, 107 RBI, .852 OPS) 
OF Heston Kjerstad (No. 80, 2020 1st Round Pick; .309, 5 HR, 37 RBI, .851 OPS) 
LHP DL Hall (No. 97, 2017 1st Round Pick; 4.48 ERA, 1.387 WHIP, 137 K) 
IF Joey Ortiz (No. 99, 2019 4th Round Pick; .284, 19 HR, 85 RBI, .936 OPS)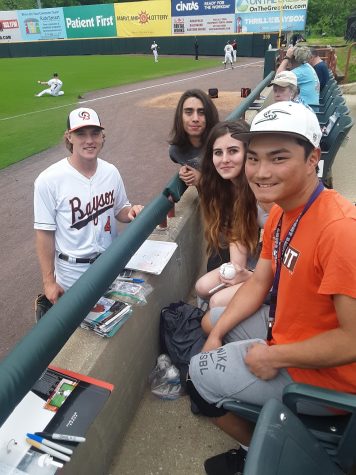 All eyes are on Henderson this season. At just 21 years old, he enters the season as the No. 1 prospect across the country after speeding through the Minor Leagues to get a big-league promotion last August. Henderson posted a .259 batting average in his first sample of MLB action. This included a 20-for-64 stretch to begin his career and a home run in his Major League debut.  
Henderson's primary position is third base where he excels the most. He is also capable of handling shortstop and second base, meaning that he is very defensively versatile. It will be fun to watch the sweet-swinging Henderson patrol the infield in the years to come, and he will without a doubt establish himself as a Major League superstar for good this summer. 
Rodriguez enters the season as America's top pitching prospect, and many are eagerly waiting for him to make his long-anticipated big league debut this year. Do not be surprised if he cracks the Opening Day roster and debuts within the first week of the season. He would have made his debut last year if a grade 2 lat strain did not derail his progress.   
Rodriguez, 23, has proven that he is ready to graduate from the Minor Leagues. Armed with a near-100 MPH fastball and a nasty curveball, the 6'5" Texan has 419 strikeouts in just 292 Minor League innings (12.9 SO/9). He has a 2.71 ERA paired with a 0.94 WHIP.  Those stats alone prove that he is Major League ready, so expect "G-Rod" to do major things on the bump at the big-league level this season.  
*Check out this awesome video chat that Rodriguez had with The Villager's very own Grant DeVivo back in 2020! https://www.instagram.com/p/CBVzEjEnwPM/?utm_source=ig_web_copy_link
Outfielder Colton Cowser will most likely make his Major League debut this summer, too. The left-handed hitting 23-year-old has one of the best batter's eyes in Minor League Baseball, as he has a .422 OBP and 119 career walks in 296 career Minor League games. He could earn himself a job in the corner outfield for the Orioles this summer and force Hays out of a job in Baltimore. Kjerstad and Holliday are still a long way from the big leagues but keep your eye out for them and do not forget their names. There is your starting right-fielder and shortstop of the future, respectively.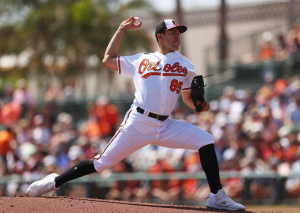 Other names that are not on the Top 100 list cannot be neglected. Power-hitting infielders Coby Mayo (.247, 19 HR, 69 RBI) and Connor Norby (.279, 29 HR, 73 RBI) could make their big league debuts this season. Infielder Cesar Prieto (.273, 11 HR, 57 RBI), who signed on with the Orioles after defecting from Cuba, could receive the call to the show if he gets off to a hot start at Triple-A Norfolk. The same goes for prospect pitchers like Justin Armbruster (3.85 ERA, 1.068 WHIP, 126 K) and Ryan Watson (3.77 ERA, 1.09 WHIP, 108 K), who could surprise many and break through as key pieces to the pitching staff. 
*Click here for the full list of the Orioles' top prospects according to MLB.com. https://www.mlb.com/prospects/orioles
Moving Forward  
It is inevitable that there is a special season in store for the Baltimore Orioles in 2023. Nobody expected them to perform the way they did in 2022, but now the expectations are high for this young team of hungry birds. The expectations are so high that the Orioles could do one of two things or both: continue calling up their ready-to-go prospects or make a trade at the deadline to bring in a big-name player to boost the team, perhaps a Corbin Burnes (starting pitcher, Brewers). So long as the pitching returns to shut down form like it was in 2022 and so long as the young guns come together and blos .som, there will continue to be winning baseball in Birdland.  
As they say around Birdland these days, #chaoscoming . Oh yes, chaos is coming. 
The Orioles will open the regular season on Thursday, March 30, against the Boston Red Sox at Fenway Park. The first pitch is at 2:10 pm. The O's home opener will occur the following Thursday, April 6, with a 3:05 pm start versus the New York Yankees. A limited number of tickets are still available at https://www.mlb.com/orioles/tickets/opening-day .
*There have been several roster moves made by the team since publication of this article.
-Pitchers DL Hall and Grayson Rodriguez were optioned to Triple-A Norfolk (Rodriguez was recalled a week later and made his Major League debut on April 5)
-1B Ryan O'Hearn was reassigned to Minor League camp
-OFs Franchy Cordero, Nomar Mazara, and prospect Robert Neustrom were released
-Rule 5 pick, P Andrew Politi, was returned to the Red Sox
-Pitchers Kyle Bradish, Mychal Givens, and Dillon Tate, and C James McCann were placed on the 10-Day injured list
Donate to Stevenson Villager
Your donation will support the student journalists of Stevenson University. Your contribution will allow us to purchase equipment and cover our annual website hosting costs.
About the Contributor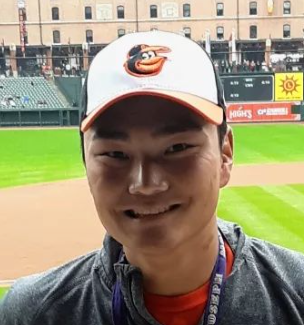 Grant DeVivo, Sports Editor
Grant is a senior from Westminster, Maryland. He served as the Villager's sports editor in 2022-23 after being on staff in 2021-22. He attended Mount St....