Stevenson women's volleyball opened MAC conference play with a win and improved to 9-3 in their home game Wednesday night against Albright College. 
Stevenson took control early, dominating the first set 25-9. Albright showed signs of life with a second set push, but the Mustangs held them off, winning 25-18. That momentum helped Stevenson close out the straight set victory, 25-12.  
Throughout the match, senior middle hitter Darian Dildy put balls away with 10 kills and a stunning .750 hitting percentage. 
"I always make sure when I'm hitting, I'm giving it my all," Dildy said. "I'm always told to 'just hit the ball' and I make sure I see where the block is, so I know what is open."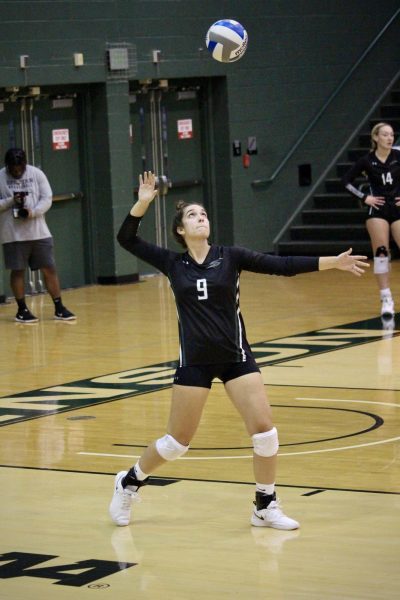 Another presence during the first set was the serving from the Mustangs, racking up a team total of nine aces with junior setter Makala Thompson grabbing four of them. 
What proved to be the factor that set the Mustangs ahead of Albright was the energy from the bench. 
The closing set saw fresh faces on the court, many of them being first years. The newcomers totaled eight kills, swinging with an outstanding .773 average hitting percentage. 
 "At first our class was expecting [the transition to college] to be difficult, but with all of the people on the team and the upperclassmen being so welcoming and it was a lot easier for us," said first year right side Carlee Darden. 
"[This game] shows how much effort and skill our underclassmen have, and I am excited to see how they continue to progress throughout the season," said Dildy.
The next game for the Mustangs is this Saturday, Sept. 26, at Messiah in Grantham, Pennsylvania. Streaming will be available through the women's volleyball page on gomustangsports.com.