Right before  Sean Blahut and  Eric "Benny" Bennett, were about to set sail on their second boat ride of the summer, the boat's trailer broke. An unfazed Bennett and friends stepped right in and helped Blahut get the boat in the water so they could still enjoy the boat ride.  
Days after that boat ride, on the night of July 22, Blahut, a senior forward on the Stevenson club hockey team, and his family went out to fix the broken trailer. The night before, Blahut had called fellow forward Bennett to update him on the trailer's status. That was the last time that the two of them talked. 
On his way home that fateful night, with his parents in the car, Blahut got a phone call that nobody ever wants to get 
Eric was gone. The 21-year-old was killed in an auto crash in Baltimore County, Maryland. 
Blahut recalled the phone call as if time stood still. 
"People say when you pass your life flashes before your eyes," Blahut said, "but all of my memories with Eric flashed and time stood still. I was crushed." 
At that very moment, time stood still for everyone who knew him from friends and family to his teammates and coaches at Stevenson ACHA hockey, including Blahut. The pain of losing someone so beloved and respected was too much to bear.  
"The next couple weeks were extremely difficult as we tried to process everything and each day," fifth-year forward Brenden Jesse said about the aftermath of Bennett's death. "I could not help but cry at least once a day when I thought about the upcoming season without Benny. 
"His passing made me realize I need to say 'yes' more to doing things with the boys. It did not matter if Benny was up all night, if the boys were getting together, Benny was the first one there and the last to leave.  
"He inspired me to change my look on life," Jesse continued. "The whole team knew this upcoming season was going to be played for Benny." 
The honor of knowing "Benny" has a lasting impact on the rest of these people's lives.  
Bennett was introduced to Stevenson University in the spring of 2019 when he attended one of Stevenson ACHA hockey's spring prospect camps. Coach Mike Urgo was immediately alerted by then-captain Brandon Scholze about the potential that Bennett could bring to the program. 
"(Scholze) said that [Bennett] would probably grow into a great player," Urgo said. "Thank God for Brandon because he did."   
Joining the team in the fall of 2019, Bennett was a part of a motor third energy line that was responsible for causing chaos, getting pucks deep, and halting the other team from scoring Urgo said. The cybersecurity and digital forensics major who proudly played with No. 24 on his jersey brought the speed and physical presence to that line and fit the team's description of a "grinder." 
"Our line was all about making the other team regret they had the puck," Blahut said, "so being quick to the player with the puck and making sure they got hit. He was one of the fastest guys we had. [He was] always a physical presence in the ice." 
Perhaps what was valued more beyond his phenomenal skillset was who he was as a person and as a teammate. If Bennett's friends were asked to describe Bennett in one word, many may choose the word fun. Blahut described Bennett as one who always looked to have fun. 
"Whether we were down a couple goals and guys were losing hope or we had an off weekend and guys didn't know what to do, Eric always seemed to have an answer on how to have a fun time," he said. 
Urgo was frequently involved in Bennett's fun times. Some of Urgo's fondest memories with Bennett included bus-ride singalongs led by DJ Bennett.  
"He would let me request songs sometimes," Urgo recalled with a smile. "We would share some deep cuts on his side of things, and I would share some deep cuts from my generation. I think we really bonded over that."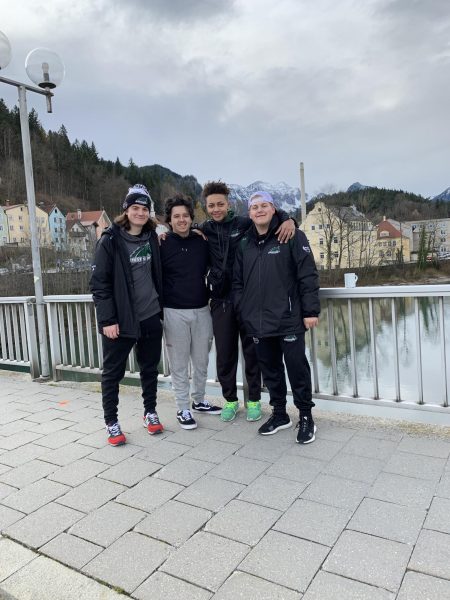 Jesse has too many memories with Bennett to choose a favorite. He describes his friendship, specifically his first year of college, as a movie.
"Any adventure with Benny was a memory," Jesse said. "My whole freshman year living with Eric was a memory, and I would pay an absurd amount of money to watch our freshman year as a movie. Each day was something new and we never knew what to expect." 
However, the best memory that Urgo has is the smile that Bennett brought every day to the ice, especially during early morning practices. 
"Practice is hard for us," Urgo said. "We are really early in the morning, [usually] 5:15 in the morning. It sucks, but regardless of the day or the morning, Benny was always smiling. That is something that will always stick with me." 
From a hockey perspective, Urgo praised Bennett for his continuous desire to improve and be coachable.  
"Eric was one of those players that would do anything that you asked him to do and play any role that you ask him to play," Urgo said. "Eric was someone who every year, every month, got better. He never stopped improving, and he never stopped being coached. Those are the kinds of kids I love because the sky is the limit as far as what they can do both on and off the ice." 
Urgo also praised Bennett for playing a vital role in the team's chemistry and establishing what he wants in the team's culture, and that is one of acceptance. 
"When I recruit guys, I tell them that above anything that people can be themselves," Urgo said. "In my program, there is no face you've got to put on or image you have to portray. Eric was able to bring people in. [He would] invite people over to his apartment and just make people feel welcome for whoever they are." 
Simply put, his teammates and coaches loved and adored him.  
The season has begun for Stevenson ACHA hockey, but there is still a vacancy on the ice that is left by Bennett's passing, a gap that may never be replaceable. 
"He loved the boys and this program just as much as we loved him," Urgo said. "No words can express the hole we feel right now." 
Jesse knows that even though Bennett's physical self is missing, he is still skating around with his teammates in another way. That does not make practice and games any less painful, however,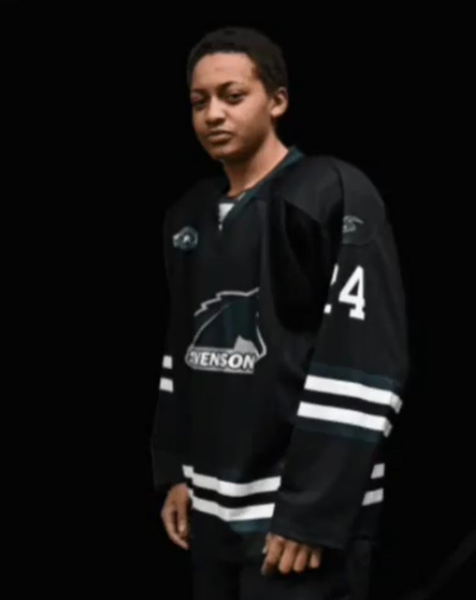 "He would have brought a veteran role that would be uniquely him," Jesse said. "We miss his relentless effort each practice and game along with his drive to make everyone around him a better player/person." 
Blahut knows how determined his team is to win for their fallen teammate, but the sting of losing Benny still feels fresh, and they still mourn their standout forward lineman. 
The team has never been more motivated to win and be successful," Blahut said. "However, there are days where you can see the impact of Eric's death negatively affecting the guys. It won't get easier, but I am sure as time passes these moments will only provide extra motivation." 
The team will be extra motivated heading into this Friday. A string of ceremonies and events, including the retiring of Bennett's No. 24 jersey, will be held throughout the team's doubleheader on Friday when the M3 team takes on Loyola at 5 p.m., and the M2 team plays James Madison University at 8 pm. More details on Benny memorial night are linked below. 
It will be a special trip down memory lane for everyone who knew Benny. For the players, the strength and motivation to win for their fallen teammate will have never been stronger, and the lessons that they have learned from him will come out in full force from here on out for the rest of their lives. Everyone will demonstrate exactly who they are, and there will be acceptance. That is what Bennett would have loved to see. 
"He always lived life to the fullest and this something that I realized I needed to do more," said Jesse. "He always pushed people to be the best version of themselves." 
So what is the best way to summarize Eric Bennett and his legacy? 
"He was a true example of goodwill," Blahut said.