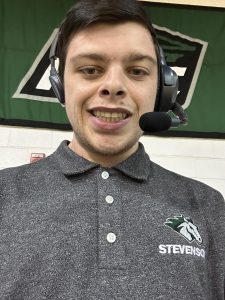 Villager sports reporter Cameron Crossett sat down with linebacker Clarence Travis from the Stevenson football team about his background with football, how he became a Stevenson University student athlete, what his plans are after Stevenson, and thoughts on the NFL.
Travis, a junior from Bear, Delaware, leads the Mustangs through six games with 38 total tackles and 6.5 tackles for loss. He also has an interception and a forced fumble this year. He will lead the defense in Saturday's homecoming game against Misericordia, scheduled for noon at Mustang Stadium. You can read a full preview in the Villager.
Q: What was the thing that got you into football?
A: I didn't know much about football. When I was 4 years old, I was at a family barbecue, and my cousins wanted me to play. It just went on from there. My uncle was a pee wee coach at the time, so I just joined his team and I've been playing since then.
Q: What was thing that made you continue playing football especially at a young age?
A. It was fun, since that young age, I was always outside playing so I enjoyed it.
Q: Your high school football career, what was that like for you?
A: It was good, I would say my freshman year we were ok. After that I would say I probably lost five or six games in my career. My senior year we won the state championship, we were undefeated, so it was a good feeling to end my career off the way it did.
Q: What was your recruitment process like at Stevenson?
A: They were very persistent. That's what really stood out to me the most. I was getting texts in class almost every day and when I came down here everything about it is so nice, like the dorms, the facilities, I was like yeah I've got to come here.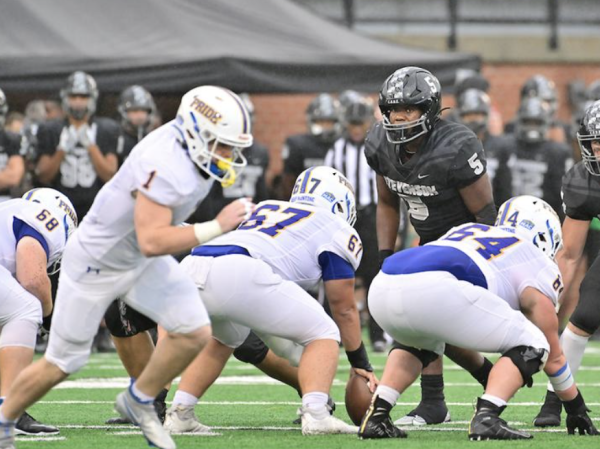 Q: Since you came to Stevenson, you guys have had your ups and downs as a football team. How did the experience gained from last year help you get to the record you're at now?
A: We were pretty good last year, overall an 8-2 record. We have a lot of returning players. We all hold ourselves to a standard so once you get on the field it doesn't matter how long you've been playing or haven't played, you've still got to do your job. I think that's been keeping us the most successful so we've got to keep going.
Q: The last two games have been against lower-ranked teams in the MAC, but you didn't let up against them, winning both easily.
A: Well, we cannot play down to our competition. That's something we do a lot which gave us our first loss this season (45-38 at home against Lebanon Valley), so that was a hard piece in the locker room so we have to treat everyone the same.
Q: You now have a lot of MAC Commonwealth opponents coming up, what are you expecting from them?
A: The fact that everyone plays the best against us. We're always known to be first or second in the MAC so once we play MAC Commonwealth teams, it's always fun and there's always a lot of fans to keep us intrigued.
Q: What are your plans for football after you leave Stevenson?
A: I have an extra year left, I may or may not use it, I'm still deciding but after college I still want to play football. I have a couple teammates from previous years that I've played with that went professional, so I'm trying to get my foot in the door with that, but if not, God willing, I still want to stay in football, so probably get into coaching or sports broadcasting like yourself. I still want to be around sports once I'm done.
Q: In regards to NFL, I'm sure you watch the pros, what excites you?
A: I'm a Pittsburgh Steelers fan, so seeing the players I look up to compete at the highest level with as much stress that's put on them, it helps me learn new techniques that I could add to my skillset and use in my games on Saturdays.
Q: Who do you look up to on the Steelers?
A: I have two, I admire Minkah Fitzpatrick and T.J Watt. If we're just talking about NFL, my favorite player would have to be Fred Warner.
Q: Your football mindset is phenomenal, what do you in your free time when you're not playing football?
A:  I keep my mind on football all day, every day. The game is mental not physical because what people see on Saturday is the final product. They don't see the time put into the game or the preparation. There is so much preparation that goes into it, especially as a defensive player, depending on what formation the offense comes out in, you have to know ahead of time just so you can make adjustments to it. I always watch film, take notes, and study my playbook.
Q: Lastly, going off what you previously said about the Steelers, I know it's been a bit rough this season but what do you expect from them going forward?
A: Unless we get a new offensive coordinator, Mike Tomlin can continue as a head coach to propel us to a winning season just like last year, I think we can make the playoffs, but we're not going to be anything special.