Stevenson women's basketball season is less than a week away, and coach Jackie Boswell, her assistants, and her young, hungry team are ready to take the court.  
 The Mustangs open the season at 8 p.m. on Nov. 10 with a home game against Chatham in the Rebecca Martin Memorial Tip-Off at the Gill Center in Westminster, Maryland. 
 Last season, the Mustangs finished 7-18 (6-10 in conference play). Boswell said the team is ready to focus on the 2023-24 season and move on from last year.  
(Last season) doesn't define us, and it doesn't define the program that we have built here.
— Jackie Boswell
"It doesn't define us, and it doesn't define the program that we have built here," Boswell said. "So, I've spent a good part of the summer just focusing on moving forward."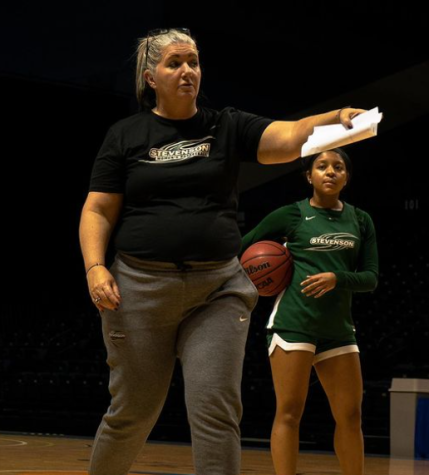 Her team, Boswell said, is ready to start "from the bottom and work our way up," Boswell said. 
"They're learning how to work hard," she said. "Our goal is to go from 0 to 10, 10-20, 20-30, and then by January being at 100 in time for conference play." Stevenson is picked to finish fifth in the MAC this season. 
Some of the starters from last season are returning including juniors guard Emori Jeselskis and forward Stephenae Lawrence.  
Jeselskis appeared in 21 games last season and started 13. She scored 158 points, grabbed 65 rebounds, doled out 33 assists and recorded 32 steals. She will bring some strength and leadership on the court this season along with the veteran experience they will need to develop into a defensive force. Lawrence appeared in 23 games last season. She totaled 27 points, seven assists and 39 rebounds.  
Other returning players include sophomore forward Tessa Boswell, sophomore forward Sanaa Thomas, sophomore Forward Aliyah Jean-Jacques, sophomore guard Erin Dixon, sophomore forward Destiny Thomas, sophomore forward Kalea Winter and sophomore forward Sanaa Thorne. 
 The Stevenson schedule should be challenging. It features a Dec. 16 home game against Christopher Newport, the NCAA Division III national runner–up in 2023.  
"It's gonna be a little bit tougher, and a little bit different… you can see a little bit of the fear, so I think what the motivator has to be now is we're not gonna be afraid," Boswell said.  
Her goal is to not be afraid and for them not to fear losing.  
"It is okay to lose to an opponent, it is not okay to lose to fear," Boswell said.  
On a more personal level, Boswell is excited to have former players Ellie Boswell (her daughter) and Maleah Smith coaching alongside her this season.  
"As a parent to get to spend time with your kids, it's always fun and important," Jackie Boswell said. "Just to see Ellie grow and stay a part of the program…she was my biggest fan as a player, and she will be my biggest fan as a coach."  
"From the coaching perspective, you get such a different outlook."  
Boswell is excited to get back in front of Stevenson's basketball fans. 
"I think that we were one of the top women's sports last year as far as attendance of their games," she said. "I am just…it is beyond appreciative it did not go unnoticed how many people came out to support us no matter what. There were never any fair-weather fans, and so that I think just says in abundance about Stevenson students and faculty here." 
Boswell made it clear she wanted to thank the fans. 
"It makes things much harder if we don't have that support," she said. "Hopefully, we're gonna be better this year."  
For more information on the upcoming season opener check out gomustangsports.com recent preview article.