Stevenson shook off a disastrous second set Wednesday night, engineering a series of comebacks to defeat Messiah in women's volleyball, defeating the Falcons 3-1 (27-25, 14-25, 25-18, 25-13) and advancing to Saturday's Middle Atlantic Conference championship game at Eastern.
The match was a defensive struggle throughout, with the Falcons outhitting the Mustangs .155 to .145. The teams combined for 20 blocks and 176 digs while forcing 45 attack errors over the four sets.
Middle hitter Darien Dildy led the Mustangs with a .367 hitting percentage on 15 kills on 30 attacks. Outside hitter Rileigh Kimball added 13 kills, while setter Makayla Thompson led the team with 26 assists.
Stevenson came back from as large as an 18-9 deficit in the first set, outscoring the Falcons 16-7 en route to a 27-25 victory. After a rough second set in which the 'Stangs fell behind early 12-1, Stevenson stormed back to win the third set convincingly, 25-18.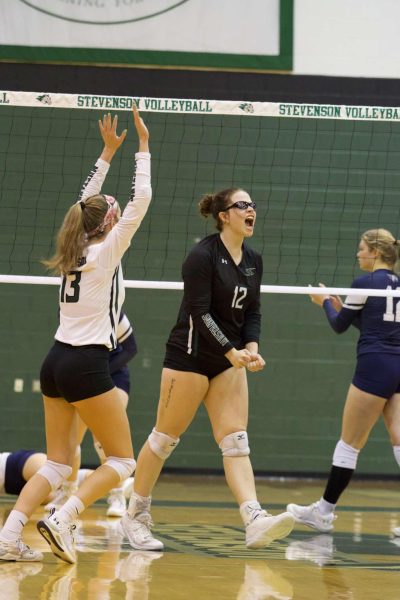 "We were just trying to keep everything positive; it was kind of hard especially because we were down so many points, but we were just trying to encourage each other and tell everyone that we can do this," said Dildy. 
In the fourth, Messiah led 14-7 before a Kimball kill made it 14-8 and sent Kylie DesLauriers to the service line. A Messiah error made it 14-9, and then kills by Kimball and Dildy cut the lead to 14-11. Three consecutive aces by DesLauriers then tied the set at 14 before another Kimball kill put Stevenson up 15-14.
A Messiah side-out only slowed Stevenson. With Kayla Vaeth serving, the Mustangs stretched the lead to 19-15. A 5-0 run by Messiah gave the Falcons another late lead. With the scored tied at 21, a Messiah error and a Kimball kill put SU up 23-21.
Match point came on a kill by sophomore outside hitter Giulia Viglietta, culminating the Mustangs final comeback of the evening.
On Oct. 18, Eastern engineered a reverse sweep of the Mustangs, winning the last three sets after Stevenson had won the first two. Eastern won the fifth set 15-12. The Mustangs now take on their longtime rivals Saturday at 2 p.m. for the title of MAC champions and a potential automatic bid to the upcoming NCAA tournament.  
"From [our] past few games we really showed what we can do. Hopefully it's not just me but like everyone else on the team says the same thing and we put that in against Eastern and take the championship," said Dildy.