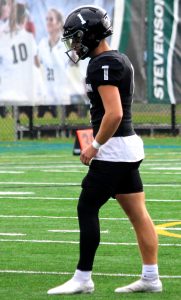 Approaching its final game in another winning season, Stevenson's football team is in the running for a spot in the Centennial-MAC Bowl Series.
On Saturday, Nov. 11, the Mustangs (6-3, 5-3 MAC) will play at Mustang Stadium against Eastern University (2-7, 2-6) with a chance at the third and final spot in the series.
In order to advance, the Mustangs must win, then hope for one of two outcomes in other MAC games. King's, Widener, Stevenson and Lebanon Valley are fighting for three spots in the MAC-Centennial series.
In Stevenson's best chance to land in the post-season series, the Mustangs need to win against Eastern and root for league-leading Delaware Valley (8-1, 8-0) during their game against Widener University (7-2, 6-2). Delaware Valley has already clinched the league championship and the MAC's automatic spot in the Division III playoffs. 
Saturday's game is also SU's senior day, where the team will celebrate their 11 valuable seniors, who will all leave a lasting impact on the team.
Placekicker Brody Campbell (1) has been a backbone on the offensive side of the ball. With 74.19% career field goal accuracy, Campbell continues to be a contributing scorer for the Mustangs. Pat Gorman (13) has been another common name on the offensive side, with 658 career receiving yards and 48 receptions. Both are players to watch during the upcoming game against Eastern.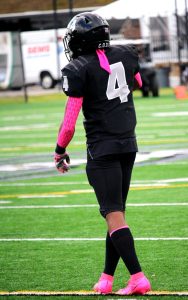 On defense, defensive back Marvin Manassa (4) has continued to hold off many offenses during his four years with SU. During his career, he has recorded 111 total tackles and 26 pass deflections and will be a force during Saturday's game.
Defensive back Justin Rutkowski (9) has been an important all-around player for the Mustangs, contributing to the special teams and defensive aspects of the game. Rutkowski has 774 career kick return yards, 180 punt return yards, 65 interception yards, and 56 total tackles.
Cornerback Jacob Baytoff (20) is another all-around force, contributing 61 career total tackles, and 15 interception yards, while also being a key special teams player.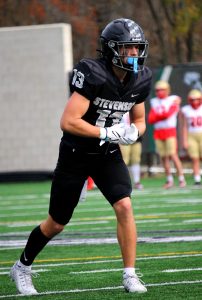 All 11 seniors will lead the Mustangs during their battle with Eastern. The game starts at 1 p.m.
Other seniors include quarterback Dante Marchitelli, defensive back Charles Greer, defensive back Tyre Williams, linebacker Tyler Doerr, defensive lineman JanMichael Finch, and offensive lineman Ethan Ferguson.
If the Mustangs win and Delaware Valley wins, the Mustangs as the No. 3 MAC team, would play Nov. 18 against the No. 3 team from the Centennial Conference.