In his first release since 2017, Alexander Payne's "The Holdovers" is a comedic yet solemn take on classic holiday films in the modern era of filmmaking.  
"The Holdovers" takes place in the 1970s and follows unlikeable teacher Paul Hunham (Paul Giamatti) and troublemaking student Angus Tully (Dominic Sessa), as the two are forced to stay behind during Christmas break at their snobby New England prep school, Barton.
Together the two try to find a way to maintain the Christmas spirit and combat the loneliness that is all too common during the holidays. The pair are also joined among others by Mary Lamb (Da'Vine Joy Randolph), the kindhearted head cook at Barton, who spends time with the pair while grieving her own personal loss of her son Curtis in the Vietnam War.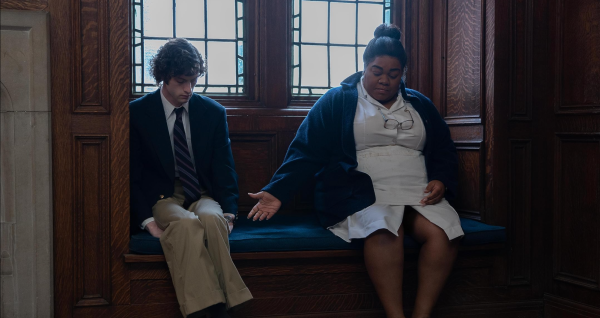 Though the film takes place over Christmas break, it shifts away from the cliché Christmas movie themes and instead focuses on what happens to those left behind over winter break as Hunham and Tully venture to find ways to fill their respective voids during the holidays. 
The film has a grainy aesthetic like it was shot on 35-millimeter film, which helps create the feeling that viewers are watching a classic movie that has been stowed away since the film takes place. The writing gives the audience iconic lines that provide more depth of personality to each character like, "I thought all the Nazis had left for Argentina." 
In addition to the cinematography creating an authentic atmosphere, Sessa, who plays Tully, is not a trained actor at all. Casting director Susan Shopmaker reached out to multiple private schools around the area that the film was shot in search of candidates to play Tully when she eventually settled on the first-time screen actor.
Watching Sessa's performance did not feel like that of a rookie at all. His portrayal of Tully felt like he had been acting for years and there was tangible passion for his character and the emotions he was going through. Keep an eye out for Sessa in future releases as he has now shown flashes of serious potential to carry out both serious and comedic roles.
"The Holdovers" has a depressing tone overall that portrays intense moments of loneliness, homesickness, and grief during the holidays, all while trying to find some form of comedic relief to fill the void. While the characters may not be the most joyful of the bunch, the film tells the story of not only a teenager coming of age during the holidays, but how everyone can have room to grow as a person and try to better themselves going into a new year. 
"The Holdovers" is now playing in theaters.