Ithaca, NY – Stevenson Women's Volleyball (22-7, 6-1 MACC) traveled today to compete in the NCAA Tournament starting this Thursday, November 16 at Ithaca College. There they will take on the Babson Beavers (24-6, 9-2 NEWMAC) out of Wellesley, Massachusetts.
Both teams received at-large bids out of the C-Pool.  
The Mustangs look to get back to their winning ways after dropping the MACC final 3-0 to Eastern University. Babson faced a similar defeat in the NEWMAC Conference Finals, losing to Massachusetts Institute of Technology 3-1.  
The keys for the Mustangs will be consistent passing in serve receive and getting digs in transition to get their offense going early. Leading the way for the Mustang offense is star middle blocker Darian Dildy. Dildy, who was recently awarded co-MACC Player of the Year, is leading all of Division III women's volleyball with an incredible .437 hitting percentage.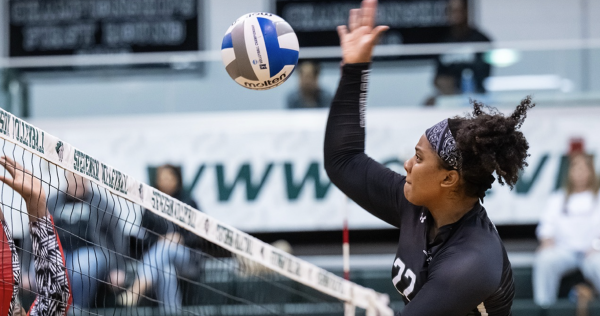 Dildy put a big emphasis on their practice this past week in getting them ready for the tournament. 
"We have been working on the things that make us stronger together as a team. Not just our offense and defense, but our connection as a whole," Dildy said. 
Dildy also stressed how important their team chemistry is going into tournament play.  
"When our connection and chemistry is at its best, we can be unstoppable, so that is always a top priority while playing," Dildy said.  
Stevenson will need to be firing on all cylinders to take down Babson, who had a dominant season in the NEWMAC. The Beavers' key performers include Lauren Gips and Roz Cabuena.
Gips is a junior middle blocker, an All-American honorable mention last year, and a two-time All-NEWMAC first team selection. This year she had 163 kills and 80 blocks hitting .365 on the season. Cabuena, a sophomore libero, received All-NEWMAC second team honors this season. Cabuena seemed to pick up anything that came her way this season, recording 365 digs on the season for an average of 5.29 digs per set.  
The opening round match will be streamed Thursday, Nov. 16 at 4:30 on Ithaca's Sports YouTube channel.