Stevenson's basketball teams each split two games last weekend to finish second in four-team tournaments.
The men's team (2-2) hosted its own tournament at Owings Mills Gymnasium, finishing second by defeating York College (NY) on Friday and dropping a close contest to Immaculata University on Saturday.
The women's team (3-2) finished second in similar style at the Jean Beamer Tipoff Classic in Salem, Virginia. The Mustangs beat host Roanoke College in the first round on Saturday before losing to Piedmont University in the Sunday afternoon title game.
Men's basketball gets hot, goes cold in the Mustang Classic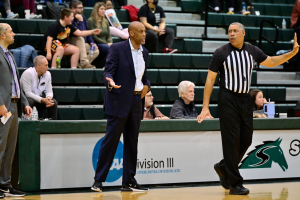 The Mustangs hosted the Mustang Classic presented by Marriott Owings Mills Metro Centre on Nov. 17 and 18. On Friday night, SU cruised past CUNY York College 95-72 behind Joey Lutz's 22 points. Ronald Ayers added 17 points, Mason Jones 13 and Cameron Jones 10 for Stevenson.
The Mustangs made 14-of-32 3-point attempts, a blistering 42.4%, in the victory over York. Lutz was 6-0f-8 from deep, while Ayers was 4-of-8.
Less than 24 hours later, the Mustangs cooled off in a tight defensive 66-64 struggle against Immaculata (4-1) that came down to the final seconds. Down 13 points at halftime, Stevenson battled back to tie the score at 64 on a steal and basket by Rasheed Cooley with 1:17 left in the game.
After a couple of empty possessions, one for each team, Immaculata scored the game winner with just 8 seconds left on the game clock.
Cooley led Stevenson with 16 points and 8 rebounds. Despite the shooting display Friday, Stevenson finished 0-of-13 from 3-point range.
The Mustangs started their year at Elizabethtown winning 91-78 back on Nov. 11. With the season-opening win, head coach Gary Stewart became the leader in all-time wins with his 139th at Stevenson, surpassing current Athletic Director Brett Adams, who was the program's only other coach.
Stevenson looks to return to winning ways at home before Thanksgiving on Tuesday, Nov. 21 at home vs California Lutheran University at 7 p.m.
Nwankwo scores with 5 seconds left to lead women to victory
The women's team traveled down to Salem, Virginia last weekend and finished 1-1 in the Jean Beamer Tipoff Classic. In their first game with Roanoke College (1-2), both teams battled back and forth in a game featuring seven lead changes, the Mustangs prevailing 63-61.
Roanoke, playing in front of its home crowd, tied the game at 61 with 17 seconds left. First year center Amanda Nwankwo converted a clutch layup for the Mustangs with five seconds left for the win.
Jaidyn Harris and Nwankwo led Stevenson with 14 points apiece. Erin Dixon added 13 points and grabbed 7 rebounds.
In the championship game, Piedmont (4-0) ended Stevenson's three-game winning streak by beating the Mustangs 74-50 in a tough game where SU was held to less than 40% in shooting across the board.
The women's season started on the road at the Rebecca Martin Memorial tip off tournament in Westminster where the Mustangs went 1-1. Stevenson lost a tough game 76-53 to Chatham on Nov. 10, but rebounded the following day beating Eastern Mennonite University 76-57. The Mustangs returned home for a battle with Notre Dame of Maryland, winning 68-62 in the home opener, boasting 34 points in the paint and 36 bench points.
The team returns to the court on the road at St. Mary's College of Maryland after the Thanksgiving break on Wednesday, Nov. 29 at 6 p.m.