Grad student and men's basketball player McKale Williams 'a leader on and off the court'
Jared Luma
Villager Reporter
Last year, as the Stevenson men's basketball team was looking to improve from the previous season, they unfortunately had to soldier on without their standout guard:, then-senior McKale Williams.
Williams, now a graduate student, is playing in his third season at Stevenson University and in his short time here, the Colorado native has left an impression on his teammates and coaches.
"McKale is a rock-solid guy," said head coach Gary Stewart. "It doesn't matter when we practice, he is consistent, and he carries himself well."
Williams averages 11.7 points per game on 40.4% 3-point shooting during the 2022-2023 season while leading the team with 40 total 3-point shots made.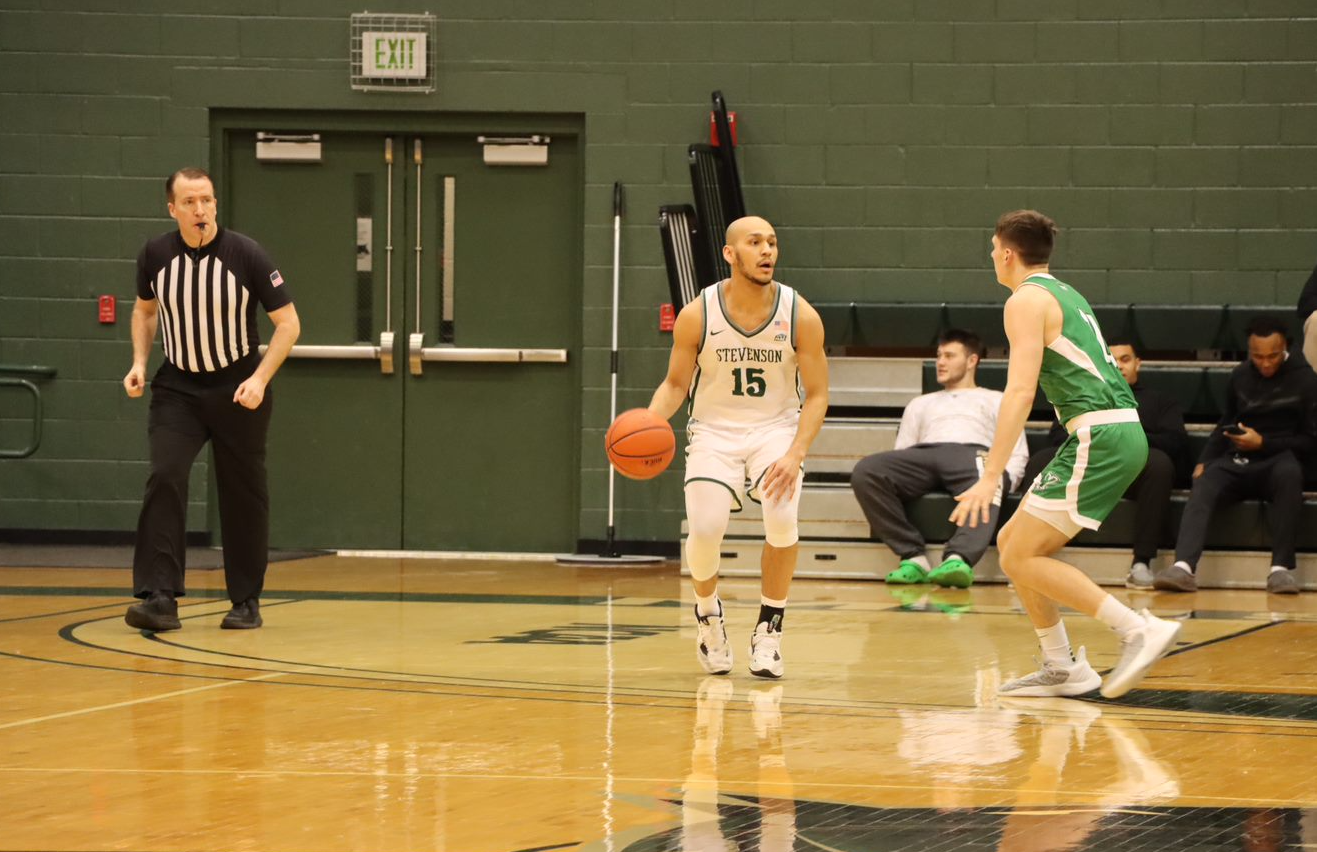 "McKale is a leader on and off the court," Stewart added. "We've benefitted so much from him."
Williams' teammates agree with Stewart that Williams has made a big impact within the team, specifically senior guard KJ Holton.
"He emphasizes time management on and off the court," Holton said.
In Williams' first year at Stevenson (2020-2021) he averaged 13.4 PPG while shooting 44.6% from the field and 39.6% from downtown. This was enough to earn him a spot on the MAC All-Conference second team.
Williams unfortunately suffered a torn ligament in his left ankle last year, when he played only nine games during the 2021-2022 season. He has made it a point to exemplify composure as an athlete and student, a trait he feels he offers to his peers.
"The process of coming back was very long to me, and I had to be very patient with my body," Williams said. "It was frustrating because the date when I was supposed to be back kept shifting later and later into the year.
"From a mental aspect, it did take a lot to be patient with my body, because that was my senior season, and I had never missed any college games up to that point. So, I was very frustrated. But I think still being around and a part of the team and creating those moments with my teammates helped me overcome the frustration at times."
Williams' efforts to make a comeback this season have paid off. His comeback 2022-2023 season has included great moments such as him scoring his Stevenson career high on Nov. 30 against Hood. In that game he scored 28 points while shooting 9-of-14 from the field and 5-of-7 from behind the arc.
"I give other guys the blueprint to be successful," Williams explained. "When I finally was able to come back, I was still thinking about my ankle injury and how I would not want to experience that again. Thus, that messed with how I would play the game because I was scared of a reinjury. But as time went by and was able to get more practices under my belt, I slowly but surely became more aggressive and more comfortable with my ankle."
Stewart has stated that this season has been a competitive one and one in which there are no guaranteed wins within the MAC Commonwealth conference. The Mustangs currently sit sixth in the conference with a 6-9 record. They defeated Messiah on Tuesday 62-58, which tied Stewart with current Athletic Brett Adams for the all-time SU record for victories.
Williams pointed out the victory over Widener earlier this year as a season highlight, as well as playing well at home.
The Mustangs on Saturday take on Eastern at 3 p.m. in the Owings Mills Gymnasium. A Stevenson win along with a loss by York College would qualify the Mustangs for the MAC post-season tournament. If those things don't happen, the season will end.
"I think the season is going alright at the moment," Williams said. "There have been a lot of up and downs for us and we are right there in terms of being one of the top teams in the conference. We just have to get a little more consistent throughout games.
*The Stevenson men's basketball season has now come to a conclusion with the team going 12-13 overall alongside a 6-10 record in conference.
**All photo credits go to Emma Trimble**