Stevenson University's outdoor track & field team has returned home after a successful MAC outdoor championship. Head coach Erick Camodeca described this year's championship as very competitive, but claimed the MACs went very well, with the men and women's teams' performance a sign of growth for the Mustangs.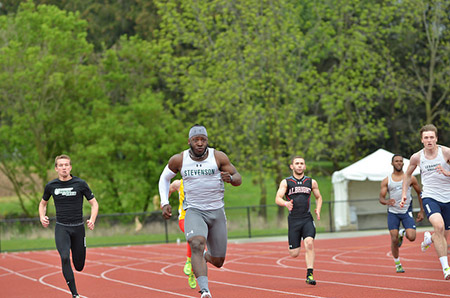 Stevenson finished in the top three in the conference with one woman and one man qualifying for the NCAAs, along with one 4×100 team and one All American. Two more 100m sprinters were close to qualifying, as were three more women in the long jump. Stevenson could potentially add four more All Americans.
The weight of these achievements is magnified by the fact that Stevenson does not have its own track or consistent training facility. Despite these hurdles, the Mustangs had several conference champions this year, including many freshmen. Sophomore sprinter Devonte Williams set several meet records and secured his spot at the NCAA meet.
Notable Mustang accomplishments at the MAC Championships:
Devonte Williams – first place in the 100 meter dash for the fourth straight year with the second-fastest 100 meter dash time in Division III – and second place in the 200 meter dash
Relay team of Tylor Bailey, Malcolm Hayward, Matt Riggins and Devonte Williams – first place in the 4×100.
Sidney Yap — first place in the discus throw
Matt Riggins, Colin Horne, Iddriss Iddriss and Avery Wood – second place in the 4×400 meter relay
Danika Ani – first place in shot put and second in the discus throw
Kelly Winklbauer – first place in the 1500-meter run
Dyonne Hicks, Chalisse Lockley, Kimberly Hammond and Cierra Roberts – second place in the 4×100 relay
Cierra Roberts — second place finish in the 200-meter dash
"It was a tight race for first and second, and between third and fourth," Camodeca said. "Both teams are very well balanced as far as talent and depth, which is very important to me."
The teams' performance shows other programs and recruits that Stevenson is developing a competitive program across the board. "The team works hard," said the coach. "I thank them for their trust in our program and staff."
The coach called athletes including Danika Ani, Matt Riggins, Cierra Roberts, Dyonne Hicks, Langston Gash, Kelly Winklbauer, JT Klopcic, and Aaron Holliday as athletes to keep an eye on. But Camodeca says there's a new star rising every weekend. He encourages students and staff to follow the team.
Camodeca admitted that the weather has posed a challenge for the team. The low temperatures and rain has made competition and training difficult. This was especially evident during the Morgan State meet April 21-22.
"We were scheduled to compete and put up some of our best performances," Camodeca said. "But the weather threw off most of the athletes' plans."
The team is very young, with only two men and one woman graduating. Camodeca believes he has learned how to manage a young team. He will bring in another large freshman class, so the coach will use this year's lessons to manage the incoming team.
The teams still have several more competitions before the season closes, including the NCAA outdoor track and field Division III championships May 25-27 in Geneva, Ohio. They will travel to compete at North Carolina A&T University May 14, and then turn right around the next day for a trip to Swarthmore College in Pennsylvania.