Thinking about traveling abroad this year? In need of a passport? The answer to your problem is solved. Stevenson University will host a Passport Fair on Tuesday, Oct. 24 to give students the opportunity to obtain a passport with the ease of submitting the application and supporting documents in one convenient location.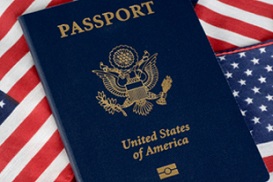 This is the first time Stevenson will host a passport fair. Rebecca Pisano, associate dean of International and Off Campus Study, said, "The passport fair is an event sponsored by the U.S. Postal Service. It will allow the Stevenson community the convenience to receive or renew a passport here on campus without an appointment."
Different elements can affect the cost of a passport including age, and what type of passport you are looking to purchase. The different types include a passport card which is used for land and sea border crossings between the USA, Canada, Mexico, Bermuda, and the Caribbean, while a passport book is required for international travel outside the U.S. borders such as Europe, and Asia.
Ages 16 and older are considered adult applicants. For those purchasing a first-time adult passport book, card, or both, there is a $25 acceptance fee with the application. Those purchasing an adult renewal, there is no acceptance fee, but the application fee of $25 is still required. The price of an adult passport book in total is $110, while the adult passport card is only $30, with the possibility for an overnight delivery fee if needed, which costs $15.45.
All participants applying for their passport can pay with cash, a money order, or a personal check. All applicants need evidence of U.S. citizenship. Two forms of identification are necessary: for example, a birth certificate, a previous valid United States passport, or a driver's license.
Passport photos can also be taken in Rockland for $15, with a photocopy of U.S. citizenship paperwork and a photocopy of the front and back of applicant's identification. The passport application itself will be available at the fair or it can be downloaded and filled out in advance on the U.S. passport website.
Processing a passport varies in time. Pisano said, "Once the paperwork is submitted, the typical passport processing times apply, which is four to six weeks."
A passport gives citizens another form of identification when traveling to other countries.  The passport fair will be held in the Lynn Duncan Room on the first floor in Rockland from 9:30 a.m.-2 p.m. in. For more information regarding this fair, contact Pisano through campus email or check the US Travel website.