October 18 is a big day at Stevenson University for three of the women's NCAA teams. Not only is the women's soccer team playing Lebanon Valley College, but women's volleyball and field hockey are also facing the same opponent.
Contests against Lebanon Valley are important for all of these sports. LVC is a top opponent in the MAC Commonweath Conference and always presents a challenge for Stevenson teams.
SOCCER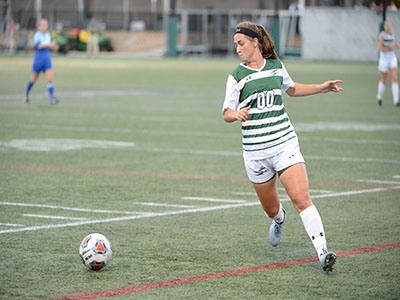 Women's soccer head coach, Tati Korba, highlighted teamleaders Morgan Cary, Tiffany McKee, Kellen Wittman, Alex Hamel and Sam Hooker as they face the Pennsylvania team.  "The season has been going very well. We are currently 7-3 and have a lot of important games coming up," said Korba.
"They are an important team to beat. No matter what the past records are, it is important to bring everything we can to conference games as they are always a battle," she added.
The Mustangs are excited to play Lebanon Valley at home and feel most comfortable playing at Mustang Stadium.
"Our main focus will be winning the LVC game so that we can position ourselves as high as possible in the conference standings for the conference playoffs at the end of the season," said Korba stated. "We always want to play aggressive and attack-minded soccer and hope to bring that mentality to this game as well."
VOLLEYBALL
The women's volleyball team is looking forward to their match-up against LVC on the same day and will lean on four seniors, Annika Schwartz, Lauren Weaver, Deanna Bradbury, and Megan Hren as well as junior Moriah Savage and sophomore Katie Leftridge, who was named the Sports Imports/AVCA Division III Player of the Week for the week of Oct. 10.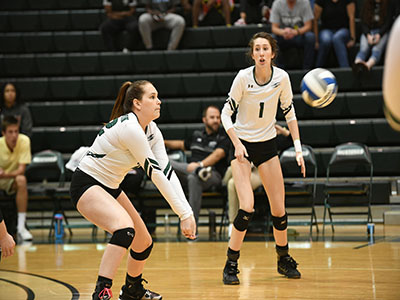 "They all bring different qualities to the table, which makes up for a good team culture," said coach David Trumbo, who recently celebrated his 300th win.
The volleyball team's record is 20-1, and they are undefeated within the conference. The team has been in the NCAA tournament for the last six years, and has not lost a conference match in five years.
"The LVC game is huge to determine if we are going to come in first place," said Trumbo. LVC has been a competitive opponent in the past, but Stevenson has always come out on top.
The volleyball team is known for winning on their home court and thrive on the support of the fans. The results from the LVC match will determine which team will be top-seeded going into the conference tournament.
"LVC is probably one of the biggest matches of the year," said Trumbo.
FIELD HOCKEY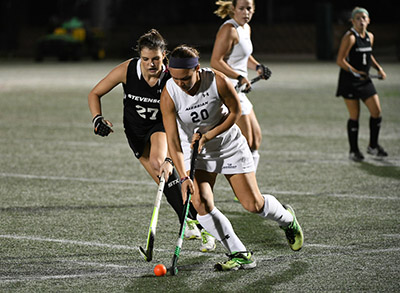 The field hockey team will turn to the leadership of their three seniors, Abigail Provost, Kali Martin, and Carrie Brighthaupt, as they face Lebanon Valley on the same day as women's soccer and volleyball.
"They are really invested in this senior year and are doing a lot to promote team unity," said head coach Laurel Martin. "The three seniors are a big part of leadership of this program," she added.
The season has seen a lot of peaks and valleys, according to Martin. As the Mustangs continue to move forward, their main focus is on the Oct. 18 conference game. Martin coached the field hockey team at LVC for over 10 years prior to coaching the Mustangs. In 2011, Martin left LVC to find a job that would give her more time to spend with her two daughters. Although Martin coached at Lebanon Valley, she no longer has history with individual players, so she sees LVC as "quite the rivalry game."
Provost explained how she feels about the upcoming game against Lebanon Valley: "There is always a little extra motivation to beat LVC. With coach's history with the team and personally being part of some great games against them, I'm excited to play LVC at home this year. It's always a good game and it's crucial we come out on top."
Since only four teams make it into the Middle Atlantic Conference tournament, it's turned into an exciting game, said Martin. "It's usually ourselves and Lebanon Valley that are vying for one of those four spots," she added.
For the team, the location is crucial. Playing on a familiar surface can be a game changer and has affected results of previous games. "It is always better to play at home. Our team has struggled to make changes when we are away and it is always exciting playing under the lights in Mustang Stadium," said Provost.
Women's soccer will take the field at 4 p.m. on  Oct. 18 at Mustang Stadium, followed by the field hockey game at 7 p.m. Women's volleyball will begin at 7 p.m. in the Owings Mills gymnasium. All games are free.