The student teaching program for education majors offers career practice in a classroom environment, which allows students to receive hands-on teaching experience early in their college years.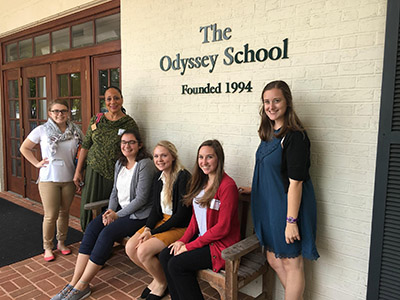 Stevenson University education majors get to work in various diverse classrooms alongside a teacher and students to practice skills needed for the teaching profession.
According to Ted Fischer, director of field placement and assistant professor of education, while in the classroom, students completing their field work observe the teacher, write lesson plans, and teach informal and formal lessons. As the years of field work continue, the students' responsibilities increase and their work is analyzed in a more critical manner.
The work that the students complete while in the classroom is considered class time or participation when it comes to scheduling and grading for the semester.
The start of the student teaching program depends on the specific type of education in which the student is majoring. Early childhood education majors begin their field work in the spring semester of their freshman year. Elementary and middle school education majors begin their field work in the fall semester of their sophomore year. Through the years, the students go from working one half-day in the classroom in their first year, to being in the classroom for five full days their senior year, said Fischer.
To prepare for their field work duties, education majors take classes at Stevenson that teach skills such as writing a lesson plan, classroom management, and accommodations for students with special needs, according to Thomas Camper, a senior education major. These classes begin when the students start their first year, and then coincide with their field placement, so the students are learning while also getting hands-on experience.

PROGRAM ATTRACTS POTENTIAL STUDENTS

The student teaching program is an important aspect of Stevenson's education program and it attracts new students to the school. Junior education major Mariah McCarthy said, "The student teaching program is the reason I chose to come here." Freshman education major Maddie Lentino expressed her excitement about the student teaching program and said how it is unlike any other school she had considered.
A major benefit of the student teaching program is exposure to the classroom early in the student's college education. This benefit allows students to decide if an education major is right for them. Those who decide that they no longer want to pursue the education field after starting the student teaching program have enough time to switch their major, and still graduate on time, said McCarthy.
Other students realize that they enjoy the field of education just as much or even more than they expected. Camper said that the student teaching program makes him "excited and eager" for his future career in the teaching profession, and it reassured him that he will be able to impact his students' lives.