The Stevenson University men's lacrosse team hosted its annual Meghan Puls Lacrosse Classic in Mustang Stadium on Oct. 15, 2017. While many attended to show their support for the perennially strong lacrosse program, some fans were also drawn to support the Meghan Puls Foundation as well.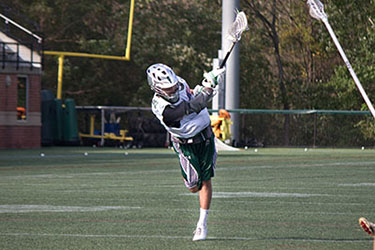 The fall tournament featured Stevenson, Virginia Wesleyan University, Franklin & Marshall College and Ursinus College, who each played in two games. The Mustangs fell to the Diplomats of Franklin & Marshall in their first match by one goal, 14-13.
In the final game of the classic, the Mustangs finished in a 10-10 tie with Ursinus College. The Mustangs recorded a loss for that game after rock-paper-scissors determined the results.
The lacrosse team dedicates their fall play each year to the foundation named in the memory of assistant coach and defensive coordinator Timothy Puls' daughter. The foundation donates all proceeds directly to University of Maryland Shock Trauma Center and Lions Camp Merrick for children with diabetes.
The tournament, which is free of charge but asks for a contribution of any size, has been a major success for the foundation.
"Probably the most enjoyable part is watching people come to the Meghan Puls Classic who really have no clue about Meghan's story or short life, yet are willing to give up a suggested donation, which in turn helps us help others…there are a lot of great people out there who do a lot of good for others but don't get the recognition…that is very humbling" said coach Puls.
Meghan Puls, a 16-year-old multi-sport athlete, passed away suddenly after a vehicle in which she was a passenger left the roadway. Both her mother, Cassie, and father, Tim, worked for Stevenson University and began the foundation in 2004 according to www.meghanpulsfoundation.org.
With over 30 years of collegiate coaching experience, Puls has a deep appreciation for Stevenson's commitment to charity.
"This is our primary fundraiser for the Meghan Puls Foundation, and Stevenson University has embraced the Classic…I have always felt a great spirit of generosity since I came on this campus," said Puls.
He continued, "At Stevenson, we have been involved in many community service events over the years, so it is not unusual for our players to know early on that they should, can and will give something back during their time here…we started the Meghan Puls Classic to continue the tradition of giving back…our players are very well taken care of and it is important we all try to help each other in some fashion."
Stevenson men's lacrosse team will continue to build in the off-season to prepare for another tough spring in the MAC Commonwealth conference. The program will continue to give back to the community by hosting a one-day camp for prospective student-athletes on Sunday, Oct. 22 at Mustang Stadium from 8 a.m. until noon.