The Boulevard Center has been known for giving Stevenson University students different options to eat for almost a decade. With restaurants including Bon Fresco, Subway, and now the addition of IHOP, things cannot seem to get any better for students who enjoy eating breakfast.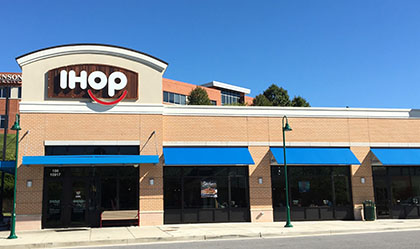 The IHOP (International House of Pancakes) definitely lives up to the high expectations that the restaurant chain has established.
IHOP is known for offering good service and friendliness to customers since 1960, when it started franchising. Walking into the restaurant, customers are greeted with a "Hello, and welcome to IHOP. How many people?"  After being seated and looking at the menu, it was overwhelming to realize how many options that the restaurant has now.
Of course, it would be overly cliché to go to a pancake restaurant and order pancakes. Therefore, I decided to give the chicken and waffles a try, with a side of apple juice. The waiter offered me a courtesy cup of coffee that I did not refuse.
Since at the time, 3:25 p.m., there were only about seven people in the restaurant, I was served within only 20 minutes, not surprising because IHOP also does an efficient job getting food served quickly.
The waffles were very soft, without not even a bit of crunch, and they were even more delicious topped with IHOP's original pancake syrup. Although it was just a single Belgium waffle cut into quarters, it was still very enjoyable.
The chicken part of the meal, unfortunately, were just traditional frozen chicken tenders like those that are offered at a million other restaurants, rather than actual chicken pieces.  At first, it was a bit disappointing to see that what was served was not actually a part of the chicken, but after biting into the chicken tenders, I found that they were breaded very well and had the right amount of flavor.  Their taste was a delicious surprise.
The waiter came back from time to time to make sure the meal was fine. There were no complaints. When I finished my meal, without asking he brought me a refill of apple juice and my check.
Overall, IHOP provides an enjoyable experience as a company that always seems to deliver what the customers want. From visiting previous IHOPs in the past, it's clear that the experience at the Owings Mills site one was as good as any other IHOP. For those on the Stevenson University campus who enjoy a comfortable setting and good, inexpensive food, IHOP is definitely a recommendation.