Stevenson University's music department welcomes Dr. Harlan Parker as the newest conductor of the Greenspring Valley Orchestra (GVO). Parker is a professional conductor, educator, and coordinator.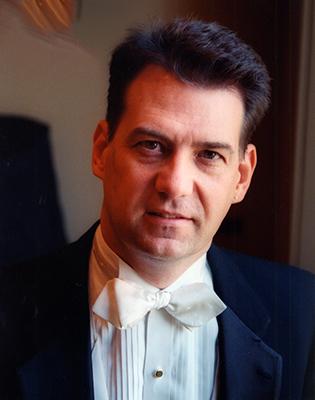 Parker brings 27 years of educator experience to Stevenson through his employment at the Peabody Conservatory of Music at Johns Hopkins University. He has been the conductor of the conservatory's wind ensemble and youth orchestra, and has been the overall coordinator of the music education division since 1990. Recently, he was also appointed as the founding conductor of the Peabody Modern Orchestra.
Some other experiences from his musical journey include being an active member of the American Bandmasters Association; he was also the former president of The Conductors Guild and has been a guest conductor for several regional and all-state bands and orchestras.
Parker became the director of the Greenspring Valley Orchestra in the fall of 2017, a few months after its founder, Dr. Robert Suggs, announced his retirement. The Greenspring Valley Orchestra, which was founded in 2002, houses a blend of approximately 60 string, percussion and wind performers from a variety of backgrounds. Membership isn't limited to Stevenson students; all alumni and other local interested musicians are encouraged to join.
Through Parker's leadership and with the members of the orchestra, a positive and enjoyable environment is created.  "The attitude of the orchestra is so positive; it is really uplifting," Parker said. "It is so much fun working with the members of the GVO."
Members of the orchestra also share that sentiment.
"The orchestra class is enjoyable for me because of the atmosphere that is created by Dr. Parker and the other members of the orchestra," said second violinist Justin Friedman. "The orchestra is a group that is very welcoming and open for learning."
Percussionist Malikka Harris said that Parker eagerly takes input from the ensemble, adding, "He's very communicative with us."
Friedman also commented, "Dr. Parker stands out from other directors that I have worked with in the way that he moves at a quick pace and keeps rehearsals interesting. He also adds a touch of humor to rehearsals and is able to explain concepts that the composers were utilizing in their music so we are able to better interpret the music."
Through the use of traditional music, written by composers such as Tchaikovsky, Parker hopes to see individual and unified growth in the orchestra's members.
"I think that their goals include just being better players as individuals and have fun playing.  The entire program challenges them to do that," he said.
To see the Greenspring Valley Orchestra under Parker's leadership, head over to the Inscape Theater on Dec. 10 for the winter concert which starts at 4 p.m.