Stevenson University's a Capella group, All Natural, debuted a new song and displayed individual talent at the annual Night of the Arts on Oct. 28, 2017 in Rockland banquet room.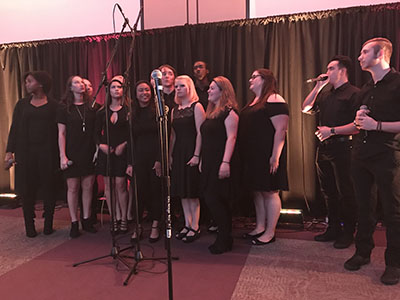 The evening performances began with Evan Bowen and Isabella Maxey singing "See You Again" by Tyler the Creator. While the show did not open with a group performance, which tends to be the norm for many choral shows, Bowen and Maxey set the tone for a highly entertaining evening.
Following solo performances by Marina Fulcher and Ryan Scott, the Black Student Union Gospel Choir's Hailey Roberson took to the stage for an acoustic, soulful rendition of "Pressure" by Jonathan McReynolds. Roberson's deep, passion-filled voice hypnotized the audience, causing them to yearn for more after the final note was sung.
The BSU Allure Models provided a break in the vocal performances with a haunting Halloween-themed display. The inclusion of the Allure Models in Night of the Arts is a puzzling tradition considering the event is largely associated with vocal performances. However, the group draws large audiences that revel in the models' body positivity and seductive saunters.
Maxey returned to the mic to perform an acoustic original, "This Is Moving On." Maxey, a first-year student, has both vocal and instrumental talent that will make her a mainstay in All Natural for the foreseeable future.
Additional solo performances by All Natural's Alex Hatoff and BSU's Shawna Thomas thrilled the crowd and rounded out the first half of the program.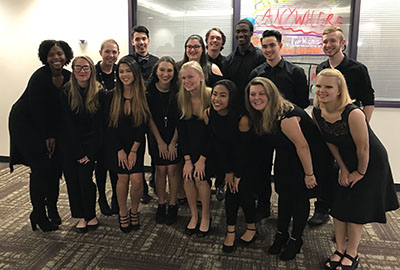 All Natural finally made their entrance as a group in coordinated all-black ensembles about an hour into the show. The wait was worth it. The group opened their set with repertoire staples "Luxury" and "Rise" made famous by Jon Bellion and Katy Perry, respectively.
The evening culminated with the a Capella group's public debut of "Sunday Candy," made famous by Chance The Rapper. The arrangement by All Natural's Sarah Young provided a more artistic flair to the rap giant's original beat. Maxey returned as a featured soloist with Jonathan Brown and Harmony Welsh, who both added expressive talent and passion to the performance.
All Natural will return to the stage next semester for the spring concert in the Inscape Theater on the Greenspring campus.