Passion, pride, and community fit together under one organization for one goal: to make Stevenson a better place for all.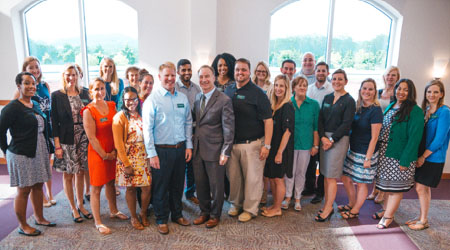 Stevenson University's Alumni Association Board consists of 30 members-at-large, a regional ambassador, and two student representatives who represent the graduates of Villa Julie College and Stevenson University. Allison Humphries '11 is the Director of Alumni and Constituent Relations. Although she is not a member of the board, she is involved with all alumni members. Humphries moderates the Alumni Board.
The Alumni Association Board stays connected with the university and continuously advocates for Stevenson. Members help spread the word for events such as Homecoming and different networking events so that the 17,749 living alumni, 50 percent of whom have graduated since 2006, can come back to the university and still be engaged with the institution.
The volunteers that sit on the board "are not only passionate and are strong advocates who give up their time and use their connections from their networks to strengthen the reputation of Stevenson, they're also all donors," Humphries said. Their contributions go towards many initiatives including student scholarships to develop a diverse and engaged student body. The money also contributes to academic programs, different events, and athletic programs.
The Alumni Board's two student representatives are Lauren Novsak and Kourtney Wells. Novsak, a junior business communication major, is the Student Government Association (SGA) Director of Public Relations and Alumni Outreach.  Through her position, she said she attends meetings to offer "the student perspective when they talk about different issues as far as when it comes to university advancement, fundraising, and different additions that come to campus." Novsak also explained that with her position comes a lot of networking with a variety of people.
Both Humphries and Novsak brainstorm in between the seasonal meetings so that they can find ways to engage current students more actively not only with the Alumni Association Board, but also with the entire Alumni Association. The Alumni Association Board appreciates learning about the student perspective and volunteers their time so current students have the opportunity to network with them.
There is a lot to gain from the board. Humphries and Novsak said that being a part of the experience itself makes it worthwhile.
"Being an alumna in my position and having the opportunity to interact and manage a group of volunteers who share my same kind of level of passion and enthusiasm for their alma mater is rewarding to me," said Humphries. "Knowing that through this vessel that is the alumni board, we are helping to move Stevenson forward," she added.
Novsak enjoys the opportunities the board provides such as the personal connections. "I've met a lot of people through the alumni board who I don't think I would've met if I wasn't on the board."
The connection that is built throughout the board provides both Humphries and Novsak joy in doing what they do. They hope that current students will gain the same feeling and experience, as well as establish the connections and networks with all volunteers from the board and the association.