Stevenson University will host its second TEDx talk on Tuesday, Feb. 23, 2018, at 3 p.m. in the Rockland Banquet Hall. Participants must sign up by Dec. 11 in order to be considered for a spot.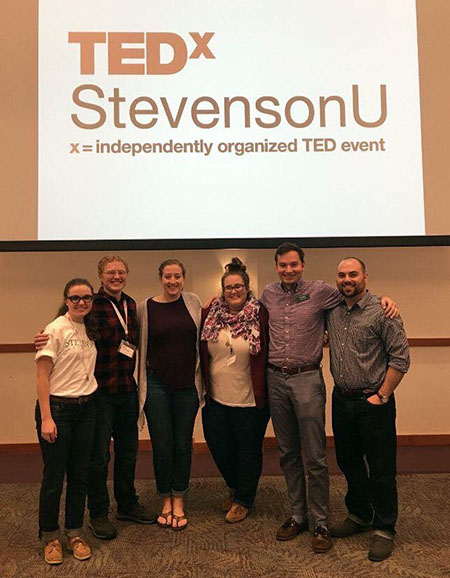 This year's event will be called TEDxStevensonU and will feature several live presentations and at least two videos from Stevenson faculty, staff, students and alumni. Each presentation will focus on highlighting aspects of the Stevenson community and will also relate to this year's central theme of inspiring courage. Tickets are free and will be available soon.
TEDx events are a branch of programs independently organized across the globe separately from the more widely recognized TED conferences. These are local events which are smaller in scale and shorter in length. TEDx events focus on emphasizing community trends and issues. These are accomplished through organizers' tendency to compile and apply information from across a wide variety disciplines and perspectives.
Luke Mastrangeli is in charge of organizing and planning this coming TEDx event at Stevenson. He organized Stevenson's first TEDx event last year, which focused on embracing change, along with a committee of student leaders.
When choosing speakers for this year's upcoming event, he said, "We [the organizers] are focused on quality over quantity," and hopes for each speaker to be familiar with the goals and guidelines provided by TEDx.
His primary goal for this year's event is to produce "quality talks with educational and learning opportunities" at Stevenson. With an eye for the future, Mastrangeli hopes to see the TEDx program grow yearly and expand with every round of presentations.
According to Mastrangeli, the staff at TEDx have been very easy to work with and offered excellent assistance and feedback for both this and last year's events.
After listening to a TEDx event presented at UCLA that inspired him, Mastrangeli is excited to see how the program will grow not only at Stevenson, but at other local colleges as well.
Currently, there are no confirmed speakers, as the application process is still in progress until mid-December.
Anyone interested in applying to present at the upcoming TEDxStevensonU, or has any questions about TEDxStevensonU is welcome to contact Luke Mastrengeli through email at [email protected].