Thanksgiving is a time for family, friends and a myriad of appetizing dishes. With a simple Internet search of "Thanksgiving dishes," the screen fills with recipes upon recipes of delectable choices. Whether you're looking for dinner or dessert ideas, there are plenty of options that are sure to satisfy the taste buds.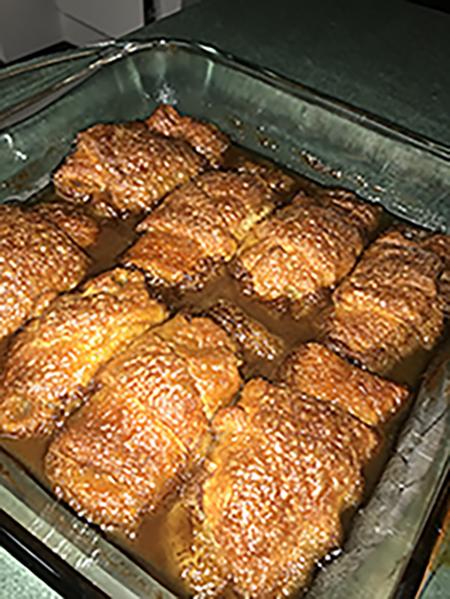 Green bean casserole, pumpkin pie, mashed potatoes, candied yams – the list of classic holiday foods is never-ending, but in my search I stumbled across "Mountain Dew Apple Dumplings," a unique twist on the fan-favorite apple pie. The Mountain Dew apple dumplings are warm, comforting and melt-in-your-mouth gooey. This apple-flavored dessert is a perfectly sweet recipe for finishing off a Thanksgiving meal.
With fresh apples, soft crescent rolls and a gooey sugar sauce, I could not resist going back for more with this Thanksgiving recipe.
The classic ingredients combined with a soda twist make this dessert easy to prepare with about 10 minutes of prep time in total. The crescent rolls act as a crust, encasing a single slice of apple to make the perfectly portioned dumpling. Before baking, a can of Mountain Dew is poured around the sugar-coated dumplings which creates a sauce similar to caramel for the crescent rolls to soak up, resulting in a soft, gooey texture.
After trying this recipe for myself, everything I had read in the reviews seemed to ring true. While baking, the crescent rolls rise and become fluffy, absorbing the caramelized sugar sauce that creates a crunchy top. The granny smith apples cook and become a sweet, tangy addition to every bite.
The preparation was simple, as there was minimal measuring, mixing or mess. Once I put the dish in the oven, the room immediately filled with the scents of cinnamon and toasted apples. With of 30 to 45 minutes of downtime during the baking process, there was a perfect window for a quick clean up with some time to spare and prepare to eat the much anticipated dessert.
The end result was even better than I expected. If you have a sweet tooth and love apple pie, or sweets in general, this is the recipe for you. Don't forget that this dessert is perfect to share, too! As the crescent rolls individually wrap each apple slice, there is no cutting needed. Just pull out the individual dumpling and indulge, it's that easy.
[separator type="thin"]
MOUNTAIN DEW APPLE DUMPLINGS RECIPE
INGREDIENTS
2 Granny Smith Apples
2 Cans Crescent Rolls (8 oz each)
2 Sticks Butter
1 1/2 Cup Sugar
1 tsp Vanilla
Cinnamon
1 Can of Mountain Dew Soda (12 oz)
---
INSTRUCTIONS
1.  Peel and core the Granny Smith Apples.
2.  Cut each apple into 8 slices each.
3.  Roll each slice of apple into a crescent roll.  Place apples that are wrapped into a grease 9×13 pan.
4.  Melt the butter.  Add the sugar and stir.
5.  Add vanilla to the butter mixture.
6.  Pour the butter/sugar/vanilla mixture over the apple dumplings.
7.  Pour the Mountain Dew around the edges of the pan.
8.  Bake at 350 for 30 minutes.
9.  Sprinkle with cinnamon.