Stevenson University's Owings Mills campus is under construction as a new green space quad will provide a more appealing view than the parking lot that has previously greeted visitors, staff and residents.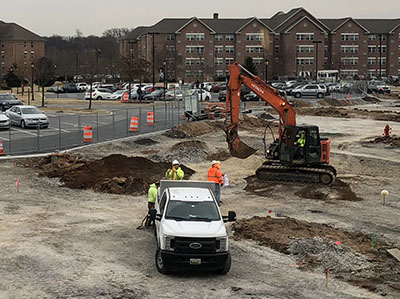 Tim Campbell, executive vice president and CFO, is overseeing the quad construction, which is currently underway in front of the School of Business and Leadership, Garrison Hall, and the Rockland center on the Owings Mills campus.
A quad is traditionally a rectangular shaped lawn with picnic tables, trees, and is surrounded by buildings. Members of the community can relax and socialize there in between classes or throughout the day.
"We always wanted a quad. Before the Ravens football field and the 16 acres of land where the apartments are now located were purchased, the master plan from the beginning was to add more green space to campus. Part of the construction on the Owings Mills campus should be finished by the middle of March," said Campbell.
Eliminating parking spaces will inevitably create parking dilemmas on campus. The goal is to keep some parking in front of the School of Business and Leadership, but to also eventually build a four-story parking garage by the Caves Health and Wellness Center parking lot, said Campbell. The parking garage will not only make up for the lost parking spots in the quad construction, but will add more parking space for events. This will ultimately allow visitors, fans, students who live off campus and faculty more parking options.
Students and staff have noticed the safety fencing erected around the construction zone between Rockland Center, Garrison Hall and the School of Business and Leadership. The university has posted signs to direct walkers to the paths for accessing these buildings, according to Jeff Kelly, interim vice president of Student Affairs and dean of students.
Parking areas have been modified as noted here:
Lot A (Mustang Stadium Lot) – Faculty/Staff, Resident Student, and Commuter Parking
Lot B (Caves Parking Lot) — Faculty/Staff and Commuter Parking
Lot C (SOBL Parking Lot) – Authorized Faculty and Admissions Visitors Parking
Lot D (Rockland Parking Lot) – Resident Student Parking
Lot E (Residence Hall Parking Lots) – Resident Student Parking
Lot F (Rear of Rockland Parking Lot) – Authorized Employees Only
Lot G (Wooded Way Parking Lot) – Authorized Wooded Way Resident Students and Authorized Faculty/Staff Only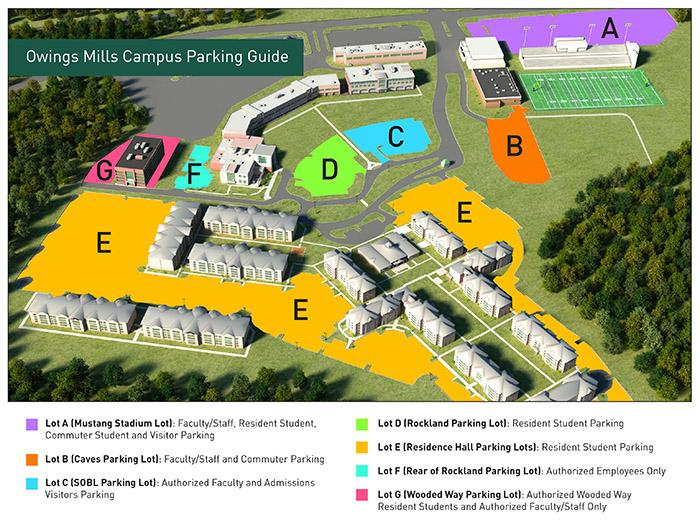 The construction work being done now for the quad is just the beginning of changes on the Owings Mills campus.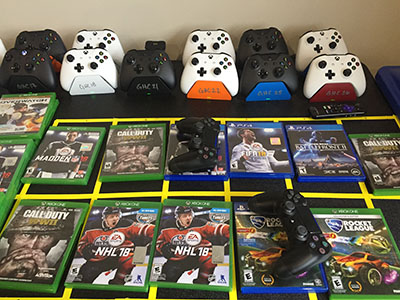 Campbell said that Garrison Hall is changing as well. Changes consist of creating a student club and activities center which will consist of club sports offices, three meeting rooms, a fitness center, and a console video gaming room. This space celebrated its grand opening on Feb. 1, 2018.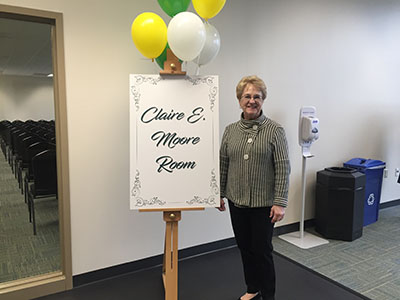 According to Kelly, the new fitness center is equipped with elliptical machines, treadmills, stair machines, bicycles, and a variety of strength equipment machines.  Space in the Student Commons has been dedicated to Stevenson's eSports team as well as a separate room for console video gaming that is equipped with eight XBOX Ones and four PS4 consoles.
These areas will provide space for students to work out, to play video games competitively, and to socialize while still having a place to work on their academics. Campbell said that the university's goal was to create opportunities and more space for students to get together on campus.
One of the meeting rooms was named in honor of retired vice president Claire E. Moore, as a tribute to her many decades of work with those in Student Activities.