As Black History Month continues, the Stevenson University library and the Center for Diversity and Inclusion are hosting their own activity to celebrate.
On Feb. 13, beginning at 4:30 p.m., a Black History Month poetry reading is set to take place in the Owings Mills campus library in the Brown School of Business and Leadership (BSOBL). This event looks to honor the legacy of Black writers, said Brianna Hughes, librarian for instruction and outreach.
Participants of the poetry reading event can simply come and listen to the readings, but are also encouraged to read works by Black writers, as plenty of options will be on hand, said Hughes. Participants identifying as Black/African American can read their own poems at the event, Hughes said, noting that the organizers are more than happy to have some original works.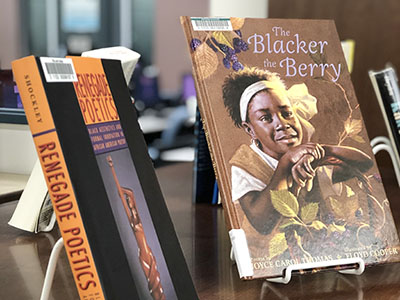 Hughes added that the library "has a good number of books, anthologies, works by Black poets in [its] collection," so this event would be "a neat way to highlight something that a lot of students and Stevenson community members might not know… that [the library] has all these books."
Hughes hopes participants will read a diverse group of poems – from works by Lucille Clifton to Phillis Wheatley to Paul Lawrence Dunbar. "We are hoping to get a real diverse crowd of people to come and read and participate [to] try to celebrate some… real unique voices and perspectives," said Hughes.
Hughes believes that there will be a good turnout at the poetry reading, too. To her knowledge, the library has not hosted an event like this before.
The library in BSOBL also currently has a book display which features an array of works published by Black writers, activists and researchers, according to Hughes.
Some of the works on display include "In the Heart of the Beat" by Alexs Pate, "God's Trombones" by James Weldon Johnson and "Phenomenal Woman" by Maya Angelou.
Marie-Clare Ofoegbu, a second-year Stevenson student, is excited that the Black History Month poetry reading is taking place. "It's a great event and opportunity for students to connect through poetry and English literature," Ofoegbu said.
Ofoegbu noted that Stevenson has a large Black and African American student population, so having the chance to connect through literature is great, and "a good step towards inclusivity."
"The library is one of those resources we tend to forget, so this event helps us connect to see how we're more similar than different," Ofoegbu said. She added, "I would attend the event because I don't see many events like this on campus…if afforded the opportunity, I would definitely go."
To sign up to read a poem at the event, interested participants can visit the library's website at stevensonlibrary.org to complete a sign-up form, or email Hughes at [email protected].