As soon as the lights turn on in the Owings Mills gymnasium in August, the adrenaline kicks in for Stevenson women's volleyball as a new season begins. Having established themselves as a team to beat in the Middle Atlantic Conference, the winning mindset turns on as they look to repeat upon the previous year's success.
Head coach Dave Trumbo and his team have their sights set on a 12th consecutive bid to the NCAA tournament. He has a slogan, "you get what you expect," and he knows that his team expects to win.
"They expect to do well," said Trumbo, who is entering his 16th season as head coach. "If you think you are going to be .500, then you probably are [going to be]."
They also have more in their sights than just that. Their personal mission is to claim the MAC conference championship and beat Eastern University.
Why Eastern?
Last year, Stevenson women's volleyball dominated with a 25-6 overall record and a 7-1 conference record. After sweeping Widener University in the semifinal round, they found themselves in the MAC championships with Eastern University for the second year in a row.
They fell to the Eagles in a 3-2 reverse sweep after starting with the upper hand at 2-0.
This is the second year in a row that the Mustangs fell 3-2 to Eastern by a slim margin. In their four-match history together, the Mustangs have fallen to the Eagles three times in the fifth set by two points. This year's rematch is personal for Stevenson. They have October 18, a home game vs. the Eagles, circled on their calendar. Junior setter Makala Thompson has marked Eastern as their in-conference rival.
"We want to beat them," said Thompson, a Mt. Airy, Maryland native. "Everyone is excited to play them again and take the win this time."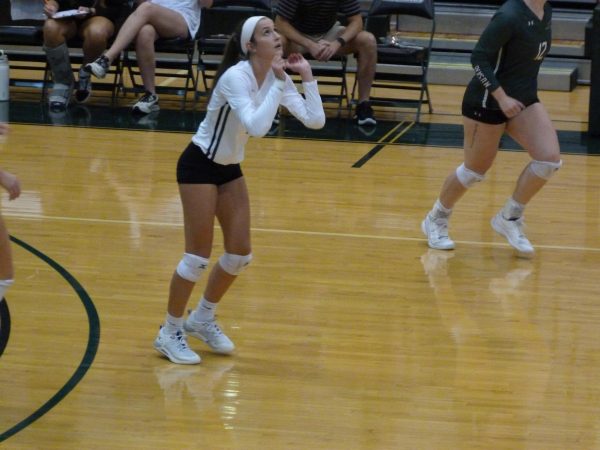 Fifth year libero Kayla Vaeth is just as eager to face Eastern University once again.
"They are the ones that have everything to lose because they have won the MAC the last two years, so we have nothing to lose," said Vaeth. "We are just excited for that [October 18] game, to just go and win it this year."
As painful as it is, a chunk of the pain is behind them.
"In my 25 years of coaching, I've never been reverse swept before, and it is not fun," Trumbo said. "They know that the less I talk about it, [the less they think about it]."
Sophomore outside hitter Giulia Viglietta, a Columbus, Ohio native, considers tough losses like those to Eastern opportunities to learn and grow as a team. This prepares them to face equally tough competition throughout the season and beyond to another potential NCAA tournament bid.
"We gain a lot of perspective when we lose," said Viglietta. "It shows us what we need to work. Now that we have lost to them twice, we know what we have to do [to beat Eastern], and it is going to help us accomplish that."
So how exactly are the Mustangs going to achieve their goal of beating Eastern and getting an at large bid for the NCAA tournament?
A Veteran Team
Leadership and experience are the backbone of this team. Trumbo said that this year's squad is the most veteran team that he has ever coached at Stevenson University. He believes these upperclassmen are team leaders with lots of fire. The Mustangs have six players above the age 21, a total of seven players in the upper class, and three fifth-year players including Vaeth, middle hitter Haley Hoover, and transfer right side Alexandra Fisher, coming in from the University of Charleston. These returners are crucial considering veteran losses the team suffered after last season including 2022 All-American Shannon Bailey and 2022 MAC Commonwealth all-conference second team selection, Sarah Straub.
With open opportunities and roles to fill, Trumbo is impressed with how his team is stepping up.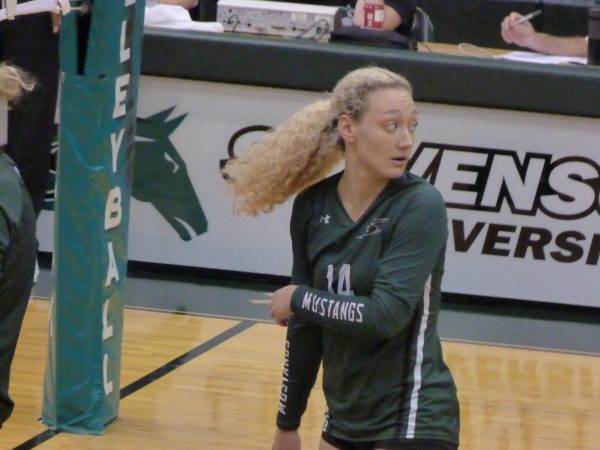 "Everyone else has gotten better," Trumbo said. "I feel like we have run really good practices. The players are dedicated, and they really work hard at practice. Therefore, they get better."
Many of Trumbo's indoor players follow him to the sand in the spring for women's beach volleyball. Trumbo says that beach experience is helpful for indoor volleyball as it carries a higher element of mental toughness compared to the hardwood. It is helpful for players like outside hitter Rileigh Kimball, a 2022 all-conference honorable mention who flipped back and forth as a No. 1 and 2 pair for the beach season.
"That [trait] carries over," he said. "In beach, you have to be so much more mentally tough because you're battling the elements, you're playing in the wind, and it's just you and somebody else. There's no hiding."
Trumbo is especially proud of his sophomores, whom even after just one season, have taken a big step in development and growth this year. Viglietta agrees, citing clutch performance and self-composure as the backbone of her class' success.
"Our sophomore class tends to step up in the bigger moments," said Viglietta. "As a class, we do a good job of staying calm, and making sure that we go in and do our job and help the team."
Good Vibrations & New Sensations
The Mustangs have always believed that success is driven by good team chemistry. This philosophy has been obvious in how well the team has worked together so far, including this year's class of first-year players.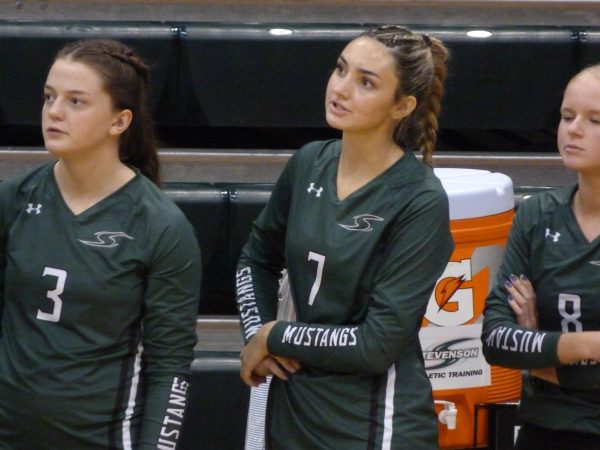 The Mustangs welcome five new first-year players including…
Carlee Darden, Right Side, Middletown, Maryland
Claire Thompson, Outside Hitter, Ijamsville, Maryland
Isabella Terra, Defensive Specialist, Downington, Pennsylvania
Christabella Williams, Middle Hitter, Sparta, North Carolina
Maren Zepfel, Right Side, Westerville, Ohio
Returning players are especially impressed with this first-year class's skill. Upon arrival, Viglietta and senior middle hitter Darian Dildy immediately took note of how well-prepared first-year players were prior to their Mustang debuts.
"I am happy that we get to have people who already know the game in very advanced ways," Dildy said. "They knew exactly what they were doing."
"They came in knowing [our team's] goals," Viglietta added. "They knew what our values and expectations were for the season."
The team is excited about the youthfulness these first-years bring, and how their energy will help build an even greater team chemistry than what already exists.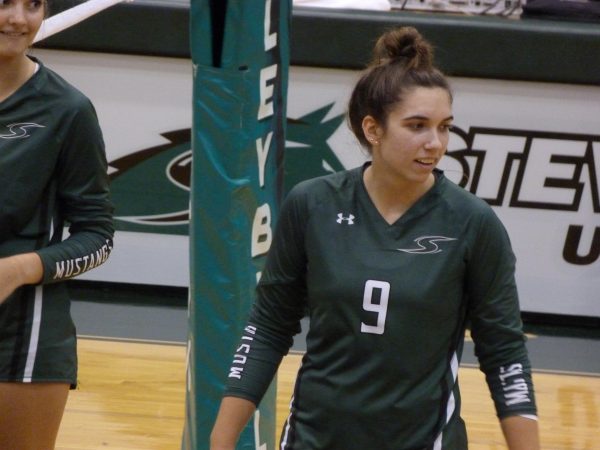 "I feel like we are meshing very well together, so now it is all about getting more reps together and continuing to practice," said Vaeth.
The combination of great first-year players and the competitive culture of Stevenson's women's volleyball, the team is ready for battle with any opponent they may face.
"You can tell that everyone is excited to be here and wants to win," Thompson said.
The Return of Darian Dildy
The Mustangs are delighted to welcome back Dildy, a native of Virginia Beach, Virginia, who missed last season due to an Achillies tear. She returns to the court as a crucial part of the team's success and leadership core. Her sophomore season resume includes a selection to the MAC Commonwealth all-conference second team, 210 kills, 41 digs, and 102 blocks.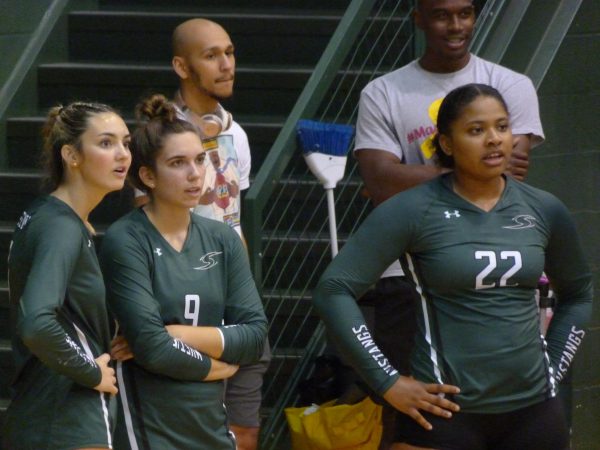 Dildy's first game this season was her debut appearance since the 2021 season, and a milestone moment for her career.
"I was very down last year because I was not expecting anything to happen to me that season," Dildy explained. "Seeing everyone else play, it really made me miss the game. This summer, I made sure that no injuries were going to happen."
To prepare for her return, Dildy spent her summer in the gym and playing in a summer volleyball league. "I made sure that when I stepped back onto the court that nothing was going to happen. I made sure that I came back stronger than ever because I want my senior year to be the best year, and I want to make a really big impact for everyone."
Trumbo is happy to see Dildy return and believes that she brings exactly what last year's seniors had: leadership, confidence, and swag.
"I'm really happy for Darian," Trumbo said "She has worked so hard to get back. She is a dynamic athlete, and I am just so happy for her that, at least in the preseason, she has performed so well."
All-Around Skills
The statistics indicate the offensive force that Stevenson women's volleyball was last year. The Mustangs ranked second in the MAC conference last season in kills (1,145), second in digs (1,737), and first in assists per set (16.96). They also outscored opponents in set wins, 81-21.
When it comes to defense, they specialize in blocking, another statistic the Mustangs led in last season (71). Trumbo makes it a point of emphasis that good defense enables an opportunity to strike on offense.
"Our blocking sets up our defense, which sets up our offense," Trumbo said. "If we serve well, we can get [opponents] very predictable. We know what they are going to do with the ball, so then we can transition into our offense."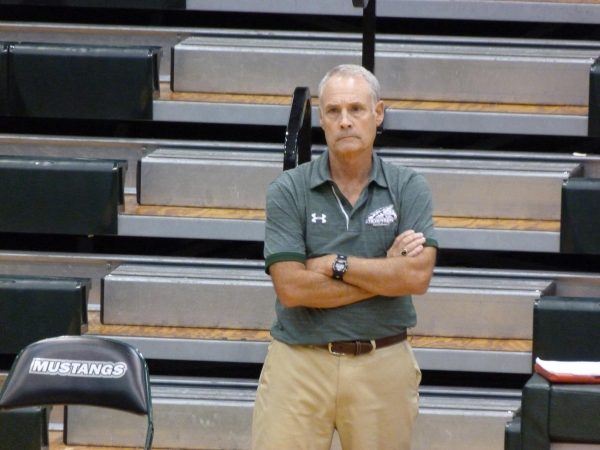 Ready To Roll
The stage is set for Stevenson women's volleyball. The team is polished in all areas of the game, and their connection is stronger than ever. Their desire to win could lead them to another chance at both MAC championships and a potential bid to the NCAA tournament.
After a revenge sweep of Gettysburg College last night 3-0, the Mustangs host the University of Scranton tomorrow at 6 p.m. followed by a Saturday doubleheader with matches at 10 a.m. vs. the University of Mary Washington and 4 p.m. vs. Desales University. All home matches will be in the Owings Mills Gymnasium and streamed on gomustangsports.com.