The interdisciplinary studies major is a hidden gem offered at Stevenson University that is often overlooked and misunderstood. As a program that combines two majors or disciplines, it allows students to create a track that matches their interests. One major often does not meet all of an individual's educational desires or prerequisites for future career goals. This is where the interdisciplinary studies major can help.
INTERDISCIPLINARY STUDIES ALLOWS STUDENTS TO SHAPE THEIR COLLEGE COURSES
As program coordinator, Dr. Esther Horrocks has seen a variety of students in many different situations. As a member of the interdisciplinary faculty since the program was first developed in 1996, she has advised many students who are looking to craft their own major.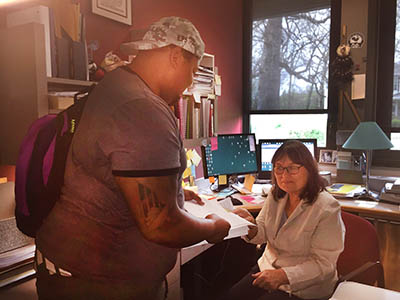 Horrocks said, "Originally, we thought the interdisciplinary studies program might be for what we called honor students or students who didn't want to leave, then-Villa Julie." As it happened, the department found that many students were interested in the program because they were struggling in certain areas of their major. By entering the interdisciplinary studies major, students have the ability to work around these classes and formulate their studies based on their interests.
As a major with about 60 students, the degree includes a number of different academic combinations. The department's focus is on the individual's needs. In addition to their customized education plan, interdisciplinary students are given opportunities to participate in a number of internship programs and complete the capstone seminar.
"We help them bring order to their course loads, to helping them choose the kind of courses they can bring together," added Horrocks. Students are not limited to the particular majors offered at Stevenson. They can choose other disciplines and studies, and a program will be tailored for them. Horrocks said that often students pair either psychology, biology, business administration or business communication with another field. No matter the student's interests, the interdisciplinary studies department can work to create a program to include both disciplines, no matter how different they are.
PROGRAM COORDINATOR ANTICIPATES GROWTH IN THE MAJOR
As a growing program, there are many changes ahead for the future. Horrocks hopes to create classes specifically for interdisciplinary studies, including focused writing courses. So far, the program has borrowed classes from other majors and pieced them together to create a student's track. By offering these courses, she hopes that it will help the program grow.
For those interested in this major, Dr. Horrocks said, it is better to enroll in it sooner rather than later.
"It really is almost too late when students are seniors," she explained, adding that many students wished they had known about this program much earlier. For those interested in finding out more information about the program, Horrocks can be reached through campus email.