One of the greatest philosophers of the modern era, Madonna, once said that "music makes the people come together." This is exactly what the people involved in the Greenspring Valley Orchestra do: bring people together to enjoy music.
The Greenspring Valley Orchestra was formed for talented and amateur students alike, to create orchestral performances as an outlet of expression in a supportive environment. This is why the organization has gained so much respect, in the Baltimore area, for their advanced ensemble of music lovers.
The orchestra's upcoming concert on May 1, is titled Musical Heroes, and will feature Beethoven's "Eroica" Symphony, along with some works by Robert Wagner, Aram Khachaturian, and John Williams.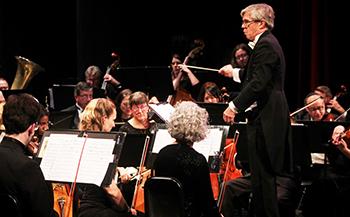 The purpose behind this upcoming performance is to highlight heroism, which defines some of the most powerful music compositions. The director of the Greenspring Valley Orchestra, Robert Suggs, who is also a professor of music at Stevenson, said, "Beethoven is the first composer to make heroism a recurring theme in musical compositions." Often, heroic music is very dramatic and can, in Suggs' words, "symbolize the struggle to achieve success."
All of the works featured in the concert were composed with great heroes in mind. Beethoven's "Eroica" Symphony was based on Napoleon, whom Beethoven saw as a champion of the common people during their struggle for freedom. John Williams' "Summon the Heroes" was written for the 100th Anniversary of the Olympic Games. Wagner's "Ring of Nibelungs" was created to showcase the life of Siegfried, who is one of the greatest heroes in Norse mythology.
This epic-themed concert hopes to inspire Stevenson students. All are invited to attend the concert on May 1, from 4-6:30 p.m. in the Inscape Theater on the Greenspring campus. There will also be an additional concert for the Primavera program that will feature the University Singers and the Ukulele Ensemble on May 6 at 7:30 p.m.
On May 1, the members of the Greenspring Valley Orchestra will put on their imaginative armor and prepare to give everyone a glorious performance.