New coach inspires tennis team
As the 2015-2016 tennis season is coming to a close, both the men's and women's teams are proud of their accomplishments. The men's team boasts a 12-5 record with a ten-match winning streak that includes two shutouts. While the women's team has no wins, coach Evan Clifton said that they have worked through several setbacks that will prepare them to be a stronger team next season.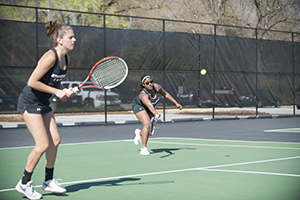 The men's team is projected to have one of the top two seeds in the Middle Atlantic Conference (MAC), having exceeded expectations for the season, and Clifton believes that they are in a position to win the championship.
However, he said, the focus of the women's team has changed throughout the season. "The women's team has had a little bit more adversity than the men's side. We've lost our No. 1 player due to injury, we've had three other girls drop from the team.  There was a point a couple weeks ago where we were down to so few players we actually had to forfeit matches," he said.
The men's team has its last two games of the season against Elizabethtown College and Messiah College during the last week of April, while the women will play at Goucher College and Messiah College at the same time. None of these matches will be easy; Messiah has skilled men's and women's tennis teams who are expected to be strong competition for both of Stevenson's teams – although the men's team is very evenly matched. Clifton said, "I fully expect it to come down to a 5-4 or 6-3 match."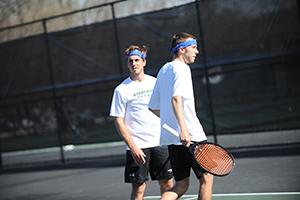 Seniors Peter Hoblitzell and Conrad Ellis, and juniors Troy Derrick and Bryan Gieselman are among the strongest players on the men's team. On the women's side, senior Ashlyn Hawbaker is one of the strongest competitors; and junior Ty-Chelle Williams, sophomore Jennifer Garcia and freshman Christina Endy have shown promise, said Clifton.
In preparation for next year's season, the athletic staff have started a strength and conditioning program for the tennis team, a new initiative. Athletes workout in season, and are given optional workouts during the summer. Clifton said, "I do see the women being a much better team next year, and the guys being as good, if not better, which is how it should be every year."
Leave a Comment
Donate to Stevenson Villager
Your donation will support the student journalists of Stevenson University. Your contribution will allow us to purchase equipment and cover our annual website hosting costs.