The Stevenson University softball team honored their five seniors on Saturday, April 30, during an afternoon victory against Albright College. The victory ensured that the Mustangs will clinch the No. 4 seed in the 2016 Middle Atlantic Conference championship tournament beginning on Friday, May 6, at 10 a.m.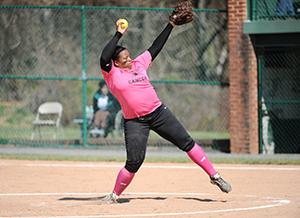 The Mustangs sweep of Albright was driven by the team's motivation to finish the season strong. Leading the way, were seniors Molly Hoyt and Emily Soller, who both hit home runs totaling a career high of seven each. In addition, sophomore Brooke Steinbach threw a two-hit shutout in the opening game against Albright, resulting in a 5-0 Mustang victory. Steinbach totaled 86.0 innings pitched this season, and will round out the season with a 4.40 ERA.
The Mustangs continued to break records with their 11 total hits in the first game. This is the 14th time the Mustangs have recorded more than 10 hits in a game. Soller continued to show her strength by crushing a two-run homerun in the third inning of the second game to contribute to the team's 3-0 win. As a senior, she will end with 167 at bats, and an overall fielding percentage of .937 and 37 RBI's. Soller believes that her strength and dedication to the sport has gotten her to this point in her career.
In addition to Soller, four other seniors were honored on Saturday's games against Albright. They included Hoyt, Tiffany Kahl, Kristen Mueller, and Laura Welch.
Coach Lye's 'Practice Player of the Week' initiative continues into the post-season playoff practice schedule. The team is doing all they can to prepare, while staying calm and confident in the days leading up to the playoffs. Stevenson will play the No. 5 seed, Arcadia College. If they win, they will play No. 1 seeded Messiah College at 2 p.m. that afternoon. Viewers can watch the game on Friday, May 6, at 10 a.m. on the gomustangssports.com website under the drop down of women's sports, softball schedule.