Stevenson University seniors are about to turn their tassels to the next chapters of their lives. The class of 2016 will walk across the stage on May 19 to accept their diplomas from President Kevin J. Manning at the university's 63rd Commencement ceremonies.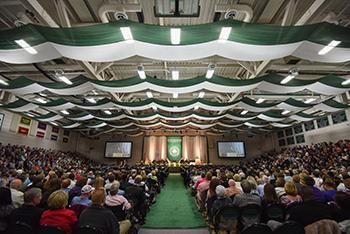 Pamela Daniels, assistant registrar for graduation, said, "Stevenson graduates are very well-prepared for their next endeavor. Graduation is often bittersweet. Focus on the gratitude's over the past two, four, or however many years you were here."
Two traditional undergraduate ceremonies will be held in the Greenspring gymnasium. Students from Brown School of Business and Leadership and School of Humanities and Social Sciences will graduate at 10 a.m. on May 19. Students from School of Design, School of Education, School of Health Professions, and School of the Sciences will follow at 3 p.m.
GRADUATION EVENT DATES 
Graduation Week
May 16: Baccalaureate- A thanksgiving and prayer celebration
May 17: Nurses Pinning- Graduating nursing students are presented with their nursing pins.
May 18: Graduate and Professional School Commencement
May 19: Undergraduate Commencement ceremonies
GUESTS AT COMMENCEMENT 
Brad Snyder, a U.S. Navy veteran and Paralympian swimmer, will be the keynote speaker at the University's undergraduate Commencement.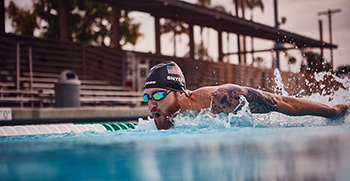 Snyder, a retired Navy lieutenant, stepped on an improvised explosive device (IED) in 2011 in Afghanistan, severely injuring him and causing complete vision loss. During his rehabilitation, Snyder, returned to the swimming, having served as swim team captain at the Naval Academy. He earned a spot on the U.S. Paralympic National Swim Team, competing in 2012 in seven events, earning two gold medals and one silver medal. Snyder is currently training for the 2016 Paralympics in Rio de Janeiro.
"I'm going to show people that I'm not going to let this beat me," Snyder said. "I'm not going to let blindness build a brick wall around me. I am going to find a way forward." The lieutenant first spoke at Stevenson in August 2014 when he addressed freshmen and their families at the university's Convocation.
Also at Commencement, Stacey D. Stewart, U.S. President of United Way Worldwide, will receive the university's 6th Annual Social Entrepreneurship Award.
According to Stevenson's website, Stewart is the leader of the U.S. Network for about 1,200 local and state United Way campaigns, and as a leader she "engages thousands of local partners, more than 11 million individual donors and volunteers, and raises more than 3.9 billion dollars each year to rally around initiatives in these vital areas."
Snyder and Stewart will each receive the honorary degree of Doctor of Humane Letters, known as Stevenson University's highest academic honor.
CEREMONY DETAILS 
For the ceremony, each graduating senior receives four tickets. Graduating seniors who are hoping for an extra ticket or two should carefully monitor their email messages, according to the registrar's office. A live video stream of the graduation will be available for family and friends who are unable to celebrate in person.
Instead of the usual graduation rehearsal, the university has created a Youtube video to help students prepare for graduation. Cap and gown, procession, and name cards are just a few of the many topics covered, and students are strongly encouraged to watch the entire video.
Graduating seniors should arrive 45 minutes before the ceremony begins. They will report to Knot Hall 101, while family and friends will report to the gymnasium. Students must leave all personal belongings—coats, umbrellas, purses—with family or friends.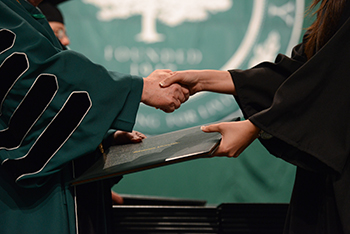 Professional photographers will be present in the gymnasium to take photos before the ceremony. When students are awarded their diploma, a professional photographer will snap photos so that eager family photographers do not crowd the stage. Ordering information is available at gradimages.com.
Students with handicapped guests attending should contact the university immediately to inform the graduation committee about the need for special accommodations. Students should email Lisa Labrecque through campus email.
Although students walk across the stage to receive their diploma, diplomas with official signatures and student names will be mailed out approximately three weeks after the ceremony. Participating in the ceremony does not necessarily mean that a student has graduated.
Graduating senior Kristen Cassetta has enjoyed her time at Stevenson because of the personable professors. "Dr. Tracey Mason is my second mom. She has taught me a lot about what to do to succeed in the chemistry field, and taught me how strong I am."