Stone's Cove Kitbar, located just a long pass away from Stevenson University's Mustang Stadium, offers an interesting mixture of seasonal fare to those in the Owings Mills community.
Advertising their food as "classic American cuisine with a contemporary twist," this restaurant is a great place to relax, catch a football game, watch your food get prepared from scratch and enjoy a nice meal with friends and family.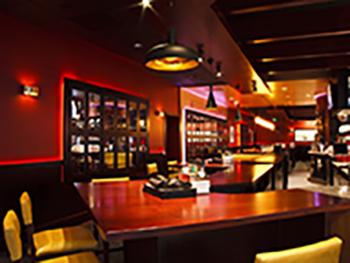 The manager, Jared, offered a few tips on how to run a successful restaurant. He spoke about catering to customers by giving them what they want and listening to their needs to ensure customer satisfaction. He also noted the importance of obeying all laws regarding alcohol consumption, with a policy of carding everyone who orders alcohol. The management works as a team, which is why the restaurant has been so successful. Employees at Stone's Cove love to see happy customers and read good reviews about their excellent food and service.
The ChefTenders at Stone's Cove have an important role at the Kitbar, which includes preparing the cold food, cooking the hot food, making drinks for customers and still engaging with guests. The menu blends traditional fare such as burgers with more eclectic offerings like meatloaf cupcakes and island tacos. A great selection of roasted flatbreads combine flavors from artichokes, spinach, bacon and jalapeno mayonnaise, among others; the wings and sliders are also very popular. Desserts cannot be missed, and are as unusual as the entrees at Stone's Cove. The pumpkin cheesecake cone, for instance, brings together the flavors of autumn. There's also a brunch menu served Saturdays and Sundays from 11 a.m. until 2 p.m.
Stone's Cove recently opened up a third restaurant in Bel-Air, Maryland, joining the Owings Mills and Herndon, Virginia, locations.
Ten percent of the Kitbar's profits goes to the Do Good Things Foundation, a philanthropic enterprise that partners with charitable organizations.
A visit to this neighborly restaurant will show any visitor how good management can combine with exciting menus to please just about any guest.