The Stevenson University cross country teams finished their last regular season in the top three in the Middle Atlantic Conference. With the start of a new season and two meets under their belts, the Mustangs successfully continue to place as one of the top two teams at their meets.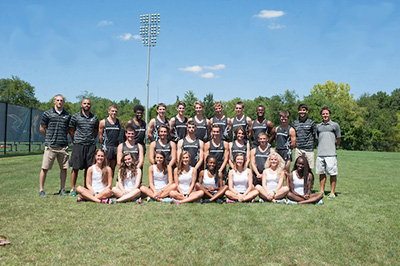 The runners opened the season on Sept. 1 with both the men's and women's teams competing at the Baltimore Metro Meet held on the Greenspring Campus course. The Mustang women came in second place overall out of the five teams competing, including Johns Hopkins University, McDaniel College, Coppin State University and Goucher College. The men placed second out of four.
On Sept. 10 runners were back again on Mustang soil, hosting the Shannon Henretty Invitational. The meet was named in honor of a 2014 Stevenson graduate, cross country runner, and assistant coach of cross country and track and field who passed away in December 2014. It was the first meet of the season where the Mustangs ran at college-level 6Ks and 8Ks. All entree fees on Sept. 10 were donated to the Shannon Henretty '14 Scholarship Fund in the nursing department.
Sophomore Langston Gash and freshman Ryan Siegel took first and second place respectively, leading the men's cross country team to first place. The women's team placed second out of 10, with sophomore Kelly Winklbauer in first place overall.
CONSISTENCY IS KEY TO IMPROVEMENT
Third-year coach David Berdan, said "The number one thing is to be consistent and keep improving as the season progresses." The Mustangs were putting in work off-season, and at practice, "the guys were pushing each other and the girls were pushing each other, I think that's what coach Berdan really likes to stress, that we work together," said Gash.
The teams have grown slightly in size on the women's side, but more on the men's side. Freshman Ryan Siegel is going to be the one to watch, along with Gash on the men's, and Winklbauer on the women's team.
Gash, whose personal goal is to make it to nationals said, "I think as a team, what everybody's is thinking is winning  the MAC championship or at least getting in the top three."
Berdan's goal of the team doing better than they ever have before, seems to becoming a reality.
The team will compete at the Brill Fritz Invitational at Rowan University on Sept. 17. More information on Stevenson's cross country teams can be found at gomustangsports.com.