Stevenson University will institute a fall break, an inaugural hiatus, that will take place from Oct. 8-12. During this period, students will have the opportunity to return home, attend Fall Serve or, if permitted by Residence Life, remain on campus.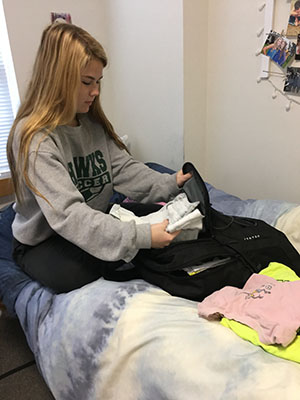 The suggestion of a fall break took several years to even be considered. Once the idea was proposed in spring 2015, President Kevin J. Manning approved the first fall break to take place during the 2016 semester.
Christine Noya, assistant professor of business communication, was one of the lead advocates in taking initiative to ensure there would be a fall break in 2016. She was the chair of the Student Services Committee, which worked in tandem with the Faculty Welfare Committee to advocate for the change.
"Once we had the support of Sarah Verville, chair of Faculty Council, the committee did a lot of research. We polled students and faculty, and the results were overwhelming for a fall break," said Noya.
Noya added that along with other research, a survey was administered to the faculty. Out of the 109 respondents, 70 percent said they were in favor of fall break. Additionally, 15 out of 21 benchmark colleges and universities researched had a fall break or equivalent time off.
Sarah Verville, faculty council chair, was another avid supporter of fall break; in fact, she was the chair of the council when Dr. Manning approved the proposal.
Verville said, "Fall break is important because it adheres to the "Blue U" philosophy that aims to develop the mental, physical and emotional well being of Stevenson community members," adding, "It provides students and faculty with focused days for research, service and other academic opportunities."
Sophomore Molly Myers said that she thinks it will be good just to have time off and to get a mental break from everything.
Some students and staff are considering volunteering with "Mission: I'm Home" to attend their service project trip, Fall Serve. Fall Serve takes place from Oct. 7-10 in Baltimore. Without fall break, this trip would not be available until winter.
In previous years, the only break for the fall semester was combined with Thanksgiving weekend. A break midway through the semester will allow students to re-energize and focus on upcoming assignments.