A car accident at the entrance of the Greenspring campus of Stevenson University held up traffic on Thursday afternoon, Sept. 22.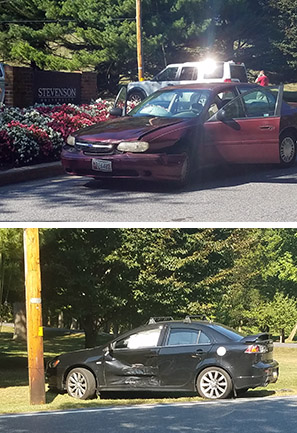 Shortly before 3:30 p.m., a red Chevy Malibu traveling eastbound on Greenspring Valley Road collided with another car that was exiting the campus.
The driver of the black four-door sedan said the other party was "barreling down the road and t-boned me," causing damage to both vehicles and deploying airbags.
The accident caused a delay, forcing students to walk the remainder of the way from the site to avoid being late for classes. Stevenson employees and local volunteers helped redirect traffic.
The driver of the Malibu declined an interview.