The Student Government Association's Senior Class Council will host a Grad Week interest meeting on Thursday, Oct. 13, in the Lynn Duncan Room located on the first floor of the Rockland Center on the Owings Mills campus.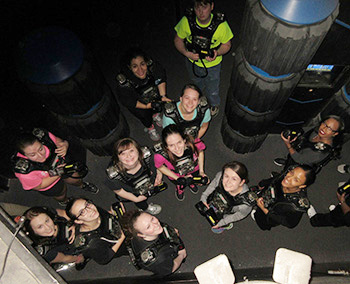 "The purpose of Grad Week is to get the senior class together one last time to celebrate this huge achievement and make some last memories before graduation," said senior class representative, Emilee Thursby. Grad Week occurs during the week between finals and spring commencement. This year's Grad Week will take place from May 15-18, 2017.
The goal of the Senior Class Council is to make Grad Week either free or as low cost as possible to allow for all seniors to participate.
"Our thing that we want to push to the senior class is fundraise, fundraise, fundraise," said Thursby. "With everyone's participation we should be able to get the cost down." The council hopes to hold fundraisers at IHOP, work at concessions stands, and sell t-shirts and Yankee Candles.
In the past, Grad Week has included trips to an Orioles game, a visit to New York City, and various service projects. Thursby said she enjoys the idea of going to an Orioles game because it gives students a chance to celebrate Baltimore at a low cost before graduation, as many graduates relocate out of the area to follow job offers or to return to their hometowns.
"I plan on attending the Grad Week meeting because it will be my chance to put in my thoughts and suggestions and share my excitement for this upcoming event," said senior nursing major Nia Bourne.
One advantage of Grad Week participation that Bourne highlighted is that the week allows out-of-state students who participate to remain on campus prior to commencement.
"I encourage every member of the senior class to be an active member. This year is a year of celebration for what we are achieving and I would love to celebrate with everyone," said Thursby.
More information about Grad Week festivities will be released in the coming weeks and months via the Office of Student Activities.