Stevenson's men's soccer team racked up a 3-2 win on Oct. 2 against Widener, giving the team a 2-7-2 record as of Oct. 6.
Coach Andrew Bordelon said that the biggest strengths on this team are the players' willingness to learn, along with their passion to improve. He added that each player deserves a position on the team because they all have pride in their roles and they support one another so well. Bordelon's recruitment philosophy is to stay close to the Baltimore area and to recruit players locally.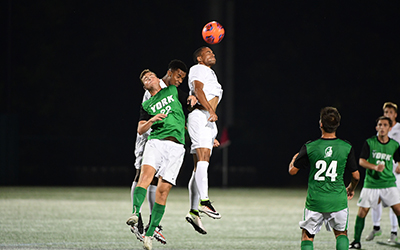 He mentioned several key contributors: senior goalkeeper Michael Tringali and his big-time saves, sophomore forward Iliyas Mirza with his four goals and DR Medtart "solidifying his role in the midfield."
Bordelon also claims the foundation of the team is in the hands of junior defenseman Eric Dorsey and Tringali because they have high standards and a lot of pride in the program.
This year, the challenge is acclimating to the new coaching staff with limited time to get used to the changes before games began.
According to Bordelon, some struggles occur in managing game situations and developing self-assurance. When the team lets up a goal, he said, heads go down and the team loses confidence.
From sophomore midfield Kelon Funyak's point of view, the team needs to learn how to use all of the innate confidence and potential they do have. Funyak added that the team is pretty young, with only three seniors, so they began the season knowing they would have to rebuild a brand and get moving in the right direction.
When reflecting upon his first season so far at Stevenson, Bordelon said, "It has been exciting. I've enjoyed every second of it although it's been difficult…in the long run there is still a lot to come to this team."